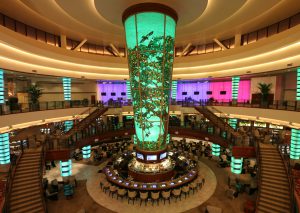 TEMECULA, Calif. – (August 14, 2019) – Only one year after completing a major $300 million resort expansion, Pechanga Resort Casino has been nominated by gaming experts for USA Today as the only California resort/casino in the "Best Hotel Casino" category its current readers' poll. Pechanga also received a nomination, along with one other southern California resort/casino, in the "Best Casino Outside of Las Vegas" category. Readers are asked to vote for their favorites in each category and may do so once per day. The voting period ends Monday, September 9 at 9 a.m. Pacific Time.
The USA Today 10Best Travel Guide readers' polls asking guests to rate their favorite casinos have appeared in various forms since 2015. Pechanga took the number one spot of Best Casino in America that year. Following that, the publication split the poll into Best In Las Vegas and Best Outside of Las Vegas, and added other related categories such as Best Casino Restaurant and Best Casino Hotel. Umi Sushi & Oyster Bar at Pechanga received second place in the 2018 Best Casino Restaurant poll. And Pechanga ranked fourth place among voters in last year's Best Casino Hotel category.
To cast a vote, visit THIS LINK. Find the "Best Casino Hotel" and "Best Casino Outside of Las Vegas" categories and cast a ballot in both.