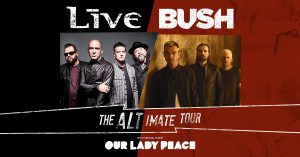 TEMECULA, Calif. – (August 13, 2019) – Roar through the alternative rock classics with +LIVE+ and BUSH at the Pechanga Summit inside Pechanga Resort Casino on Sunday, October 20, at 7:30 p.m. Currently on sale, tickets start at $39 and can be purchased at the Pechanga Box Office, by calling (888) 810-8871 or online at Pechanga.com/entertain.
+LIVE+, the multi-platinum band from Pennsylvania, are coming to perform select songs from one of their number one albums "Throwing Copper," released in 1994. "Throwing Copper" reached #1 on the Billboard Top 200 and surpassed 10 million sales with gems such as "Lightning Crashes," "I Alone" and "All Over You." This international powerhouse has been, and remains today, a global concert juggernaut and is bringing their energy to the Pechanga Summit this October.
BUSH will perform select songs from their six-times-platinum debut album, "Sixteen Stone." Embracing the sound that made them famous, BUSH has been, and continues to, produce modern hits.
"I've known Live since back in the day and they're great people. As far as what people can expect, it's a thousand percent and lots of energy, a couple of new songs and a just a celebration of the summer. It's good fun," said Gavin Rossdale.
"So thrilled that the ALT-IMATE Tour is extending into October! From the first concert with Bush and Our Lady Peace, we knew that this show was something special," says +LIVE+ frontman Ed Kowalczyk "the fans have been so supportive and are obviously sharing our excitement! See you on the road!"
Both Live and Bush were spotlighted on Rolling Stone's list, "1994: The 40 Best Records From Mainstream Alternative's Greatest Year," and remain timeless favorites, thanks to radio staples that include "Everything Zen," "Little Things," "I Alone" and "All Over You." Come be part of the much buzzed-about road show for the ALT-imate rock experience.