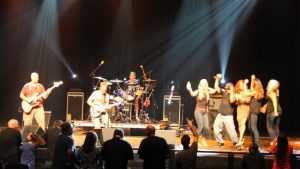 TEMECULA, Calif. — (September 26, 2017) – Pechanga Resort & Casino will host a night of rock 'n roll featuring the tunes of six bands and emcees Mia from 103.3 FM The Mix and Erik Turner from Warrant, all in honor of breast cancer awareness month this October. Pechanga's 4th annual "Rockin' for the Cure" benefit concert is on Sunday, Oct. 8, at 4 p.m. Doors open at 3 p.m. Tickets are only $10 and available to the public.
The Oct. 8 concert inside the 1,200-seat Pechanga Theater features six popular bands who regularly tour in Los Angeles, San Diego, Palm Springs, Northern California, and more. A night of unity, fun and support, the bands are a mix of seasoned rockers, men, women and Pechanga team members. You'll be able to catch:
Some of these rockstars hold a special place in their hearts for breast cancer awareness and for raising funds for research. Team members at Pechanga Resort & Casino are thoroughly involved with a number of charities and fundraising events. Each year, Pechanga team members band together and raise thousands of dollars for Susan G. Komen Inland Empire by way of bake sales, Rockin' for the Cure, payroll deductions and fun games.
The benefit concert marks one of the only charity concerts held in the Pechanga Theater on a weekend where 100 percent of the proceeds will go to Susan G. Komen Race for the Cure Inland Empire. Tickets can be purchased at the door or at www.pechanga.com. All ages are welcome.