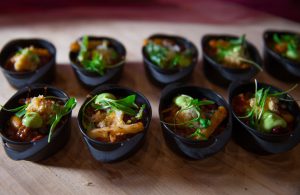 TEMECULA, Calif. (Sept. 11, 2017) – This year's Microbrew Festival & Chili Cook-Off was one for the books. A new People's Choice chili champ was crowned and ended Chef Marlene Moore's two-time reign. Chef Kiyokuni Ikeda, head chef at Umi Sushi & Oyster Bar inside Pechanga Resort & Casino, is this year's Chili Champ thanks to his rich tasting, Japanese-inspired Kobe beef chili. The competition was fierce, but Chef Kiyo brought something wildly unique to the table and put an Asian spin on a traditional American chili. Chef Kiyo's Sake Glazed Kobe Beef Chili beat out 10 other Pechanga chefs with chili varieties that included a smoked brisket chili, spicy turkey chili, an all-vegan chili, and a Brazilian chili.
Chef Kiyo, originally from Tokyo, took the reigns from a highly anticipated win by Chef Marlene Moore, the former Chili Champ and Temptations Food Court Chef, from Trinidad and Tobago. Chef Marlene's "Temptation" Hearty Southern Style Chili was a hit during the 2015 and 2016 festivals, where she consecutively earned her champion title. Now in its ninth year, thousands of people came to enjoy craft and microbrews, chili and music at the 2017 Pechanga Microbrew Festival.
The event also worked to raise $12,350 for Habitat for Humanity Inland Valley. The organization assists underserved people of the Inland Southern California community by building homes for them, sending volunteers to make needed home repairs for seniors, veterans and disabled people, and runs two ReStore locations in the Southwest Riverside County region. More than $200,000 for Habitat for Humanity Inland Valley programs has been raised during the organization's nine-year partnership with Pechanga Resort & Casino. All silent auction proceeds as well as a portion of the ticket sales from the Pechanga Microbrew Fest and the Chocolate Decadence and Pechanga Wine Festival benefit Habitat for Humanity Inland Valley.
Beer experts say Chef Kiyo's chili pairs well with a rice lager such as a Sapporo to match the Asian flair and notes of Saki.
Chef Kiyo's Chili Recipe – Sake Glazed Kobe Beef Chili
Serving size: 8-10
Chili Ingredients:
6 lbs KOBE short rib
2 cups yellow onion
6 oz black beans
6 oz red kidney beans
6 oz white beans
1 clove garlic
½ cup garlic oil
1 cup red bell pepper
1 cup yellow bell pepper
½ cup GOBO(burdock root)
16 oz canned tomato
8 oz tomato paste
5-2.5 oz chipotle pepper paste
½ quart chicken broth
½ quart DASHI (dry bonito and kelp) broth
½ bottle KIRIN Ichiban beer
1 cup Sake
1 oz honey
Seasoning Ingredients:
(Will use ¼ cup of all-purpose flour with this seasoning mix for sauté KOBE beef)
¼ cup onion powder
¼ cup garlic powder
¼ cup Mexican oregano
¼ cup cumin
2 tbsp. white pepper
2 tbsp. black pepper
2 tbsp. light chili pepper
2 tbsp. paprika
2 tbsp. salt
1 tbsp. ginger powder
Garnish Ingredients (optional):
DAIKON French fry
1 lb Daikon radish
1 tsp. grated garlic
1 oz low sodium soy sauce
1 oz corn starch
Tempura Shiso Leaves:
10 each of Shiso leaves
3 oz of tempura flour
Avocado Mousse Ingredients:
1 large avocado
½ cup crème fresh
1 lime
1 tsp. salt
Shredded Cranberry Chipotle Cheddar
Micro cilantro
Directions:
Mix seasoning and all-purpose flour and mix with the KOBE short ribs. Put firmly and rest at room temperature.
Sear the KOBE short ribs with garlic oil in a pot until a nice brown crust has formed. Then, rest on the sheet pan grate.
Sauté onions, pepper and garlic in the same pot for 4-5 minutes until onions and peppers are softened.
Add gobo and mixed seasoning. Stir to combine 1-2 minutes.
Add chipotle pepper and tomato paste. Stir to combine 2-3 minutes.
Add sake, beer and white wine. Stir to combine 1-2 minutes.
Add canned tomato, dashi broth and chicken broth.
Cover pot and place in a 325 degree oven for 3-5 hours until short ribs break down or are easy-to-shred.
Place pot over a burner on low heat.
Add all beans and honey to chili and stir to combine.
Bring chili to a simmer and cook for 15-25 minutes until beans have warmed through and chili has thickened.
Taste the chili and add leftover seasoning as necessary to adjust taste.
Add chili into bowls, top with DAIKON French fry, tempura SHISO leaf, avocado mousse, cranberry chipotle cheddar and micro cilantro (optional).
Garnish Directions (optional):
Cut Daikon radish into short sticks then lightly marinate with low sodium and grated garlic
After 10 minutes, coat with corn starch and deep fry until they are a nice brown color.
Batter Shiso leaves in tempura batter and deep fry.
Make avocado mousse and shred cranberry chipotle cheddar for topping.