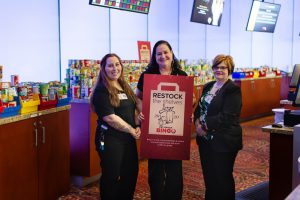 TEMECULA, Calif. (Feb. 14, 2020) – Throughout the month of January, Pechanga Poker and Pechanga Bingo, as well as its loyal players, committed to helping Restock the Shelves of the Community Mission of Hope. The initiative collected 4,000 pounds of non-perishable foods. That tips the scales as equivalent weights of a typical full-grown giraffe or an adult white rhinoceros. Pechanga guests were just as giving as they were in 2019, and they were rewarded for their generosity with extra game incentives when playing Pechanga Bingo and poker in exchange for bringing the non-perishable foods.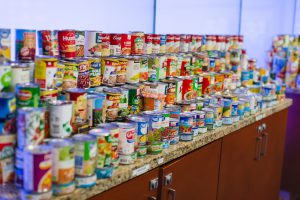 The Restock the Shelves campaign supports the regional assistance organization by replenishing their depleted food supplies after the incredibly busy November and December holidays. The Community Mission of Hope services more than 400 residents and families of Murrieta, Temecula, Anza, Aguanga and beyond each month. Pechanga Resort Casino was the only Southern California casino to participate in this year's Restock the Shelves campaign.
Throughout January, players had the opportunity to bring donations of non-perishable food items in exchange for valuable incentives. Bingo players who brought in two cans of non-perishable food items received one free earlybird game pack with their buy-in for matinee and evening sessions.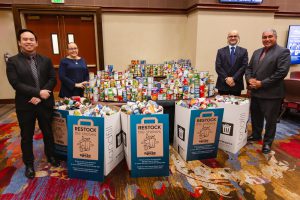 Pechanga Poker players competing in weekday tournaments received a head start on chips for bringing in non-perishables. Those who brought two canned goods received 500 bonus starting tournament chips and those with three or more canned items received 1,000 bonus starting chips.
The Restock the Shelves food donation campaign is put on at Pechanga in conjunction with Ante Up Magazine and Blue Shark Optics. Ante Up and Blue Shark Optics team up with poker rooms in regions across the countries to host Restock the Shelves events each January. This is the Pechanga Poker Room's fifth year participating and Pechanga Bingo's third.
For more information on Pechanga Poker or Pechanga Bingo, please visit pechanga.com or call 877-711-2946.