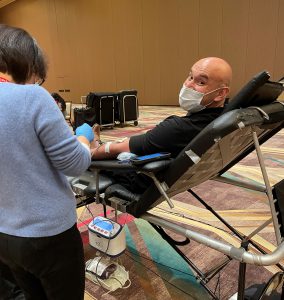 TEMECULA, Calif. (July 22, 2022) – Pechanga Resort Casino and LifeStream Blood Bank team up to host a community blood drive. They're asking community members to roll up a sleeve on Thursday, July 28 from 7:30 a.m. to 6:00 p.m. in the Pechanga Summit Events Center. The goal is to help rebuild blood bank supply during a critical shortage so that hospital patients have blood available for emergency and everyday medical care. This blood drive comes as Southern California and the country face a national blood crisis. Blood bank experts say their supply is measured currently in hours, not days. Blood supplies have been reduced due to ongoing blood drive cancellations and lower donor turnout. To make an appointment, please visit Pechanga.com/community-giving or call (800) 879-4484.
The public and Pechanga Team Members are invited to be donors and donate blood safety in the Pechanga Summit Events Center. LifeStream collection technicians are standing by to assist our community heroes with their life-altering contributions. This is the third blood drive held at Pechanga Resort Casino since the beginning of 2022.
With local and national blood bank supplies plummeting, some hospitals have been forced to defer patients from major surgeries or other life changing procedures. Blood donors can make huge impacts with a single donation of critically needed blood. Just one blood donation can save up to three lives. This is the third blood drive hosted at Pechanga Resort Casino in 2022, in an effort to bolster dwindling blood supplies.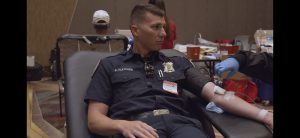 As a thank you, those who come will receive a free beach towel and t-shirt, as well as being eligible to enter a raffle for gas cards and other great prizes from Pechanga Resort Casino, as well as $50 gift cards courtesy of LifeStream.
How to donate blood
All blood types are needed to ensure a reliable supply for patients. A blood donor card or driver's license or two other forms of identification are required at check-in. Individuals who are 17 years of age in most states (16 with parental consent where allowed by state law), weigh at least 110 pounds, and are in generally good health may be eligible to donate blood. High school students and other donors 18 years of age and younger also have to meet certain height and weight requirements.
About LifeStream Blood Bank
LifeStream Blood Bank is a local, nonprofit blood bank that provides blood products and services to more than 80 southern California hospitals and medical facilities in six counties. LifeStream has fixed-site donor centers in San Bernardino, Riverside, Ontario, Victorville, Murrieta, La Quinta, Rancho Mirage, and Placentia.  LifeStream conducts about 1,700 mobile blood drives annually throughout our service area at schools, churches, businesses, government offices, hospitals and service clubs. Please visit https://www.lstream.org/ to learn more or connect with us on Facebook, Twitter, Instagram, and Youtube.