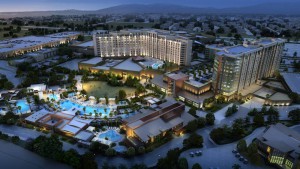 TEMECULA, Calif. — (June 19, 2017) – Pechanga Resort & Casino in Temecula, Calif., the largest resort/casino in Calif., was the only Calif. casino nominated to the list of the 10 best casinos in the country, representing Calif. as a whole. By Monday, July 17, four thousand Pechanga team members hope they will continue working for the #1 casino in the nation. Defending its title, Pechanga was voted the Best U.S. Casino in the 2015 USA Today 10Best poll. Since then, Pechanga has broken ground on a $285 million expansion set to be completed by the end of 2017, making the property the largest on the west coast and a massive employer in southern California, hiring nearly one thousand additional team members.
"We are really excited about this poll because it means for the second time, the experts who nominated us as well as our guests, are passionate enough about Pechanga to take a few moments and vote for us," said General Manager Lee Torres. "Another #1 win would also greatly help brand our region as a premier destination spot with a lot to offer visitors."
Through initial voting, Pechanga's rank is No. 2. The tribal-owned casino is running against internationally known, five-star properties across the U.S.
"Visit Temecula Valley is excited to help spread the word to vote for Pechanga Resort & Casino as USA Today's 10Best Reader's Choice for Best U.S. Casino," said Kimberly Adams, Visit Temecula Valley C.E.O./President. "Pechanga is a favorite attraction within our destination that receives millions of visitors each year. This title is well deserved and winning would help market Temecula Valley as a premier destination."
Pechanga is currently joined on the list of 20 resort/casinos by properties in Las Vegas, Atlantic City, and the south. Those interested can vote for Pechanga Resort & Casino by clicking HERE.
Casino properties were chosen for the poll by Lisa Robertson-Dziedzic, Editorial Director for Casino Player and Strictly Slots magazine, and by Tony Harrell, a certified destination expert for Las Vegas, New Orleans and Canada.