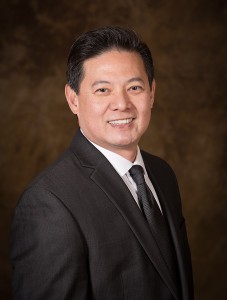 TEMECULA, Calif. — (April 11, 2016) – A new face can now be seen in the Vice President of Slots office at Pechanga Resort & Casino. Having started as an entry level slot attendant 30 years ago and working hard to climb the ladder ever since, Alex Rodriguez was promoted from the Director of Slots position to the Vice President role in late February.
He now oversees a 700-seat bingo facility, a slot floor seen as one of the most innovative and popular in the country, and a team of 310 people.
Originally from the Philippines, Rodriguez moved to the United States in his early 20s. He and his family headed to the east coast and landed in Atlantic City. He took his first job in the casino industry as a cage cashier at the Golden Nugget. He later took a job as a slot attendant at the Trump Plaza. He moved into management roles over the course of a dozen years and eventually landed a position as Vice President of Slots at a Connecticut property. In 2011, the former slot vice president at Pechanga, searching for a department director, spotted him on LinkedIn. Pechanga flew Rodriguez out for the interview, but he says he already knew he wanted to accept the job at the west coast resort/casino since his family had since all moved to California from New Jersey.
Rodriguez sees Pechanga Resort & Casino's slot variety as one of the best in the nation. Voted the number one casino in the U.S. by readers of USA Today in 2015, Rodriguez points to the newness, the bonusing options, eye-catching themes and incredible digital displays of Pechanga's slots, as well as the Four Diamond service of its team members, as factors guests appreciate. "If a machine is not fun for them, they let us know every time," says Rodriguez. "Guest feedback is essential, and if they don't like it, we won't keep that game around."
When not on the casino floor, one may be able to find Rodriguez in a local pool hall. He says his number one passion outside of work is playing pool. A member of the American Pool Players Association, he competes in amateur events and tournaments often. "I grew up playing pool so it just stuck with me when I came to the United States," he says. "I love the strategy of the game." He admits he also loves cooking and sometimes prepares Filipino food in the kitchen all day. "That way I have food for the whole week if my teenage son doesn't gobble it up first."