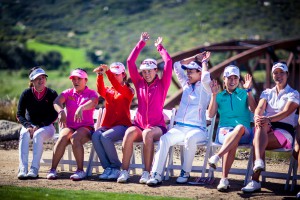 TEMECULA, Calif. – (April 8, 2014) – Coming off a nearly week-long majors stint in the Palm Springs area, many of the LPGA's top players headed west on Monday, April 7 to play amid the Temecula Valley wine country and support a worthy cause. Nineteen pro players, along with 101 other golfers, participated in the 2nd Annual KoreAm Pro-Am, an event that hosts LPGA invited players and raises awareness for the LPGA Foundation whose mission is to empower and inspire girls and women through the game, on the links at Journey at Pechanga. LPGA pros including Chella Choi, Vicky Hurst and Birdie Kim joined together with invited guests to take on the challenging, championship Journey at Pechanga.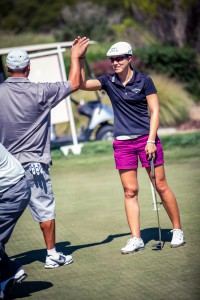 "All the help we can get on tour, it's all so helpful," said LPGA pro Vicky Hurst. "From one-day pro-ams throughout the year, it makes such a difference. They support us and we support them for this great cause. We appreciate all they do for us."
As result of the tournament, $5,000.00 was donated to the LPGA Foundation. Established in 1991, the organization supports junior golf programs, scholarships and financial assistance programs for women and young ladies. The foundation has four main goals: to develop and maintain junior golf programs across the country; to develop and maintain scholarship programs for junior golfers; to maintain a financial assistance fund for those in the golf industry; and to conduct research and develop educational activities related to golf instruction. LPGA-USGA Girls Golf, one of the foundation's programs, has established The LPGA Foundation as a leader in the golf industry in youth initiatives.
The highly anticipated KoreAM 2014 Pro-AM included the Korean superstars of ladies golf including Birdie Kim, Vicki Hurst, Charlie Wi, Jennifer Song, Chella Choi, Ilee lee, Jenny Shin, Irene Cho, Jee Young Lee, M.J. Hur, Jeong Jang, Mi Hyang Lee, Rebecca Lee-Bentham, Tiffany Joh, Mindy Kim, Hee Won Han, Christine Song, Jenny Suh and Angela Park. This elite group of 19 pro golfers challenged the golf course together with their fans or partners.
"I love meeting new people and I love how golf allows you to meet different types of people and just enjoy yourself," said LPGA pro Rebecca Lee-Bentham about the tournament.
About Journey at Pechanga
Journey at Pechanga offers a 7,219 yard, ar-72, championship, 18-hole golf course open to the public and Pechanga guests alike. Rated as one of the top 20 public courses in the state by GolfWeek magazine, the impressive, Arthur Hills-designed course winds along a spectacular boulder strewn mountain. Journey snakes across the dry ravine of the Pechanga River, over rustic wooden bridges and takes full advantage of the simply awe-inspiring terrain which rises and falls a breathtaking 300 feet – often with majestic views of the Temecula Valley. The course is challenging and enjoyable with a choice of five tee boxes. The 62,000 square-foot clubhouse, Journey's End, with high-end resort amenities and an upscale casual restaurant, has recently been named as the absolute best in Southern California and is a popular spot for parties, weddings, banquets and other special events. For more information, visit www.JourneyAtPechanga.com.
About Pechanga Resort & Casino
Pechanga Resort & Casino offers one of the largest and most expansive resort/casino experience anywhere in the country. Rated a Four Diamond property by AAA since 2002, Pechanga Resort & Casino provides an unparalleled getaway, whether for the day or for an extended luxury stay. Offering more than 3,000 of the hottest slots, table games, world-class entertainment, 517 hotel rooms, dining, spa and championship golf at Journey at Pechanga, Pechanga Resort & Casino features a destination that meets and exceeds the needs of its guests and the community. Pechanga Resort & Casino is owned and operated by the Pechanga Band of Luiseño Indians. For more information, call toll free 1-877-711-2946 or visit www.Pechanga.com. Follow Pechanga Resort & Casino on Facebook.com/Pechanga and on Twitter @PechangaCasino. Pechanga Resort & Casino is open 24-hours. Guests must be 21 and older to enter the casino.