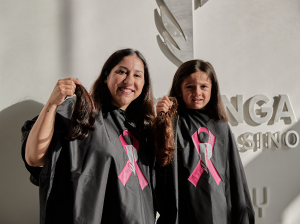 LOS ANGELES — (October 21, 2022) – The usual pregame cookouts and tailgates took a backseat to haircuts for cancer ahead of this Sunday's Los Angeles Rams Crucial Catch game, presented by Cedars-Sinai. Four generous donors with very long hair gathered in the Pechanga Founders Club suite inside SoFi Stadium before kickoff. With LA Rams, Pechanga Resort Casino, and Hair We Share staff looking on, nearly 50 cumulative inches of hair were chopped after the count of three. Pechanga Resort Casino and the LA Rams as Southern California partners, Pechanga's Mane Campaign hair donation initiative was brought to SoFi Stadium in honor of October as Breast Cancer Awareness Month. The donated hair will go to the Hair We Share organization that makes wigs for those suffering from hair loss due to medical conditions. Hair We Share provides the wigs free of charge to cancer resource centers and hospitals around the country. They are generally given free of charge to those who need them.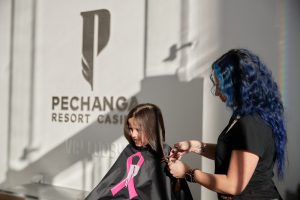 Following their initial donation cuts, cosmetologists from Paul Mitchell Temecula shaped and styled the ladies', and one brave little boy's hair into beautiful new 'dos, especially cute for fall.
"Losing one's hair from chemotherapy and radiation takes a toll on a person's psyche at a time when they're already feeling so vulnerable and less like themselves," said Suzanne Chimera of Hair We Share. "Wearing a wig can make someone feel beautiful again on the outside. When they feel that way, it permeates to the inside and helps their outlook overall. We are incredibly grateful to Pechanga Resort Casino and the LA Rams for raising an incredible awareness for the need for hair donations."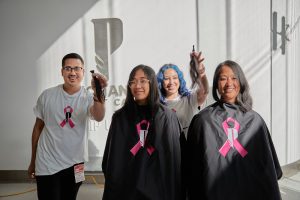 This was the fourth time Dominique Castillo cut and donated her hair. This time, she was joined by her son Julian. She began donating in 2013 after her husband was diagnosed and treated for brain cancer.
"As the NFL embarks on its 14th season of Crucial Catch, we are grateful to our partners Cedars-Sinai and Pechanga for their contributions to this important cause," said Los Angeles Rams Chief Commercial Officer Jen Prince. "We were humbled to host Hair We Share prior to our game against the Panthers and to be able to support the meaningful work they are doing in helping Cancer fighters."
For the 14th consecutive season, the NFL and American Cancer Society (ACS) are working together to support the fight against cancer through the Crucial Catch campaign. The NFL's Crucial Catch mission is to fight cancer through early detection and risk reduction. Since 2009, the league has raised more than $24 million for the American Cancer Society.
"This is our eighth year putting on the Mane Campaign hair donation initiative at Spa Pechanga," said Andrew Masiel, Sr., President of the Pechanga Development Corporation. "It's incredible to know that the work our spa staff has done to encourage people to donate their hair has helped thousands of people undergoing cancer treatment and their families. We're incredibly proud of this initiative at Pechanga."
Wig makers say it takes five to six ponytails to make one wig. Since 2013, Spa Pechanga at Pechanga Resort Casino has encouraged those with long hair to cut and donate it every October during Breast Cancer Awareness Month. Anyone wishing to donate their hair this month to receive a free haircut and style should contact Spa Pechanga for a donation appointment. Call the spa at (951) 770-8501. Appointments will be taken on Thursdays and Fridays during October between 2 p.m. and 6 p.m. Hairstyles are provided by Smith Salon and 11:11 Salon, both in Temecula, Calif.
The Centers for Disease Control show breast cancer is the most common cancer among American women affecting one in eight. CDC statistics show more than 200,000 women get breast cancer and more than 40,000 women die from the disease each year. Hair loss, one of the most common side effects of cancer treatment, can be especially traumatic for a woman fighting cancer.
Donated hair must not be bleached or a color that is not naturally occurring. Donated hair must be at least eight inches. Grey hair is OK. To make an appointment at Spa Pechanga, call (951) 770-8501. Appointments for hair donations and styles are based on availability.
Spa Pechanga is open Monday – Sunday from 10 a.m. – 6 p.m. For more information, visit Pechanga.com/mane-campaign.