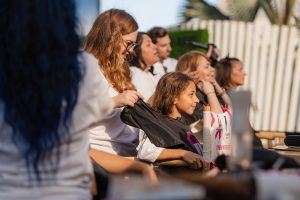 LOS ANGELES — (October 24, 2022) – Ahead of the Los Angeles Chargers' Monday, October 17 game, hair spray and leave-in conditioner became the condiments of choice at one important pre-game event hosted by the Chargers and Pechanga Resort Casino.  Sixteen ladies, three brave little girls, and one man there for the game became a walk-up donor gathered just inside the SoFi Stadium gates before kickoff to cut off and donate more than eight inches of their hair in honor of breast cancer awareness. With fans arriving for the game looking and cheering on the donors, more than 170 cumulative inches of hair were chopped during the Monday 'tress tailgate.'
The donated hair goes to the Hair We Share organization that makes wigs for those suffering from hair loss due to medical conditions. Hair We Share provides the wigs free of charge to cancer resource centers and hospitals around the country. They are generally given free of charge to those who need them.
Following their initial donation cuts, cosmetologists from Paul Mitchell Temecula, Smith Salon and Rylin Ashlee Salon shaped and styled the ladies' hair into beautiful new 'dos, especially cute for fall.
"It can be devastating to someone undergoing medical treatments to lose their hair," said Suzanne Chimera of Hair We Share. "Wearing a wig can give someone the confidence they need on the outside to take things on, and that transcends how they feel on the inside. We are indebted to Pechanga Resort Casino and the LA Chargers for raising so much incredible awareness for the need for hair donations."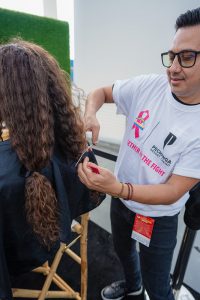 "Our spa staff recognized the need for hair donations related to Breast Cancer Awareness back in 2013," said Andrew Masiel, Sr., President of the Pechanga Development Corporation. "This initiative is now in its eighth year and this year is put on an even larger stage thanks to our partnership with the Chargers. We're humbled the work we do at Pechanga is helping countless people undergoing cancer treatment, as well as their families."
Several days before the haircut event at SoFi, Pechanga and the Chargers hosted a dozen breast cancer survivors for a day of pampering at Spa Pechanga. The ladies received massages and facials, catered breakfast and lunch, and a special visit from Amy Staley, wife of Chargers' coach Brandon Staley.
"It brought me so much joy to see these women relaxing and enjoying each other's company on this day of pampering," said Amy Staley, wife of Chargers' coach, Brandon Staley. "The Chargers and Pechanga partnered to give these women a special day…relaxation and survivor sisterhood. THAT is beautiful!"
Anyone wishing to donate their hair this month to receive a free haircut and style should contact Spa Pechanga for a donation appointment. Call the spa at (951) 770-8501. Appointments will be taken on Thursdays and Fridays during October between 2 p.m. and 6 p.m. Hairstyles are provided by Smith Salon and 11:11 Salon, both in Temecula, Calif.
Donated hair must not be bleached or a color that is not naturally occurring. Donated hair must be at least eight inches. Grey hair is OK. To make an appointment at Spa Pechanga, call (951) 770-8501. Appointments for hair donations and styles are based on availability.
Spa Pechanga is open Monday – Sunday from 10 a.m. – 6 p.m. For more information, visit Pechanga.com/mane-campaign.