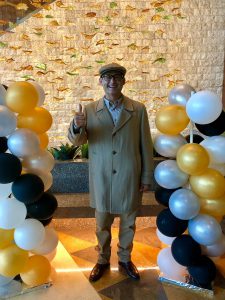 TEMECULA, Calif. (January 5, 2018) – One lucky Pechanga guest welcomed 2018 by winning a brand new car! A Mercedes CLA Coupe was up for grabs during Pechanga's New Year's Eve celebrations and specials. Guests were able to earn entries from 8 p.m. – 2 a.m. for the sleek coupe and $1,000 in EasyPlay®!
Lucky winner Abelardo Lopez had the option of adopting the Mercedes or taking the cash prize of $30,000. He went with the latter, with plans to pay off the brand new car he purchased just one week before.
"I couldn't believe it when I received the call. I thought it was a joke," Abelardo said in response to discovering his win. He says his parents enjoy coming to Pechanga and each year his family chooses the resort/casino to celebrate the New Year.
Winners are made every day at Pechanga Resort & Casino. If you are not yet a member of the Pechanga Club, signing up is free and easy to everyone 21 years and older. Simply enrolling gives members valuable discounts on dining and other Pechanga activities. The more you use your Pechanga Club card when playing slots or table games, the more perks you accumulate. For more information regarding the Pechanga Club please inquire by calling 1-888-PECHANGA.