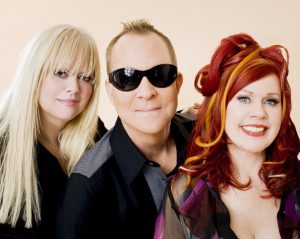 TEMECULA, Calif. – (September 16, 2019) – Now with over 20 million albums sold into their career, there can be no doubt as to why The B-52s remain one of rock music's most beloved and enduring bands. As the B-52s continue to celebrate their 40th Anniversary, the band announced a world-wide tour that is expected to cover more than 10 countries and will include a headlining North American summer tour. On Sunday, October 27, at 7:30 p.m., see and hear the Grammy nominated quartet for yourself inside the Pechanga Theater at Pechanga Resort Casino. Currently on sale, tickets start at $79 and can be purchased at the Pechanga Box Office, by calling (888) 810-8871 or online at Pechanga.com/entertain.
In 2018, the B-52s began their 40th anniversary celebration in style,  co-headlining a massively successful American tour with Culture Club and Thompson Twins, taking over venues across the country. Continuing the festivities, Da Capo Press/Hachette Books has announced plans to publish the first-ever official history of the band in 2020. Meanwhile, the B-52s have joined forces with Executive Producer Fred Armisen and Director Craig Johnson [Skelton Twins, Wilson, Alex Strangelove] to develop an authorized documentary film of the group.
"Who knew that when we played our first house dance party in Athens, Georgia in 1976 that we would be still be rocking the house in 2019!" says vocalist Kate Pierson. Adds fellow vocalist Cindy Wilson, "Visiting over 10 countries to perform for our fans around the globe makes us so incredibly happy. Let's rock!" Front man Fred Schneider gives fair warning, "Woo-hoo! Europe and then all over North America! Dust off those go-go boots and shine your dancing shoes because the B-52s are coming!"
You don't need to look too hard to see or hear the multi-dimensional influence of the B-52s. As they take their party-music revolution into the 21st century, the B-52s show no signs of slowing down, serving up their own unique blend of music and showmanship to millions of fans around the world.