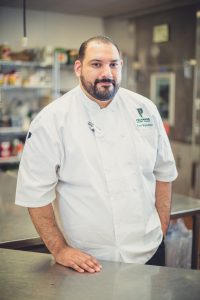 TEMECULA, Calif. — (August 31, 2017) – Pechanga Resort & Casino, the #1 casino in the U.S. voted by readers of USA Today in 2015, has just named Jose Mendoza as the Lobby Bar Chef. With the resort/casino's $285 million expansion underway, hiring managers are bringing 350 new food and beverage team members on board, causing a shift in management and the need for additional chefs. The Lobby Bar is a brand new addition to the resort/casino. There will also be a new Pool Bar & Grille. With this new location, Pechanga will offer guests 13 dining options beginning in December.
Chef Jose has more than 10 years of professional cooking and leadership experience in restaurants, hotels and resorts. He has held positions at several upscale casino/resorts and was a Pechanga team member back in 2012, where he served as a line cook at the former Seafood Grotto, now standing as Umi Sushi & Oyster Bar. He was quickly promoted as the sous chef, however he left to pursue other leadership roles. Now finding his way back to Pechanga, Chef Jose will create an entirely new menu and lead a brand new team to operate the new Lobby Bar.
Pechanga is currently under a $285 million resort expansion set to open at the end of the year. It includes the addition of 568 rooms and suites, 70,000 additional square feet of indoor event space, a luxury, two-story spa and salon, a 4 ½ -acre resort pool complex, and two new restaurants. This spring, Pechanga celebrated the grand opening of the brand new 2,400-space parking garage featuring 44 electric vehicle charging stations and three Tesla Superchargers, marking the completion of the first phase of the expansion. Enough solar to power 100 homes along with a moving sidewalk to the casino entrance will be added to the new East Parking Garage this fall.