TEMECULA, Calif. – (May 25, 2022) – Chef Jonas Corpuz's first memory of being in a kitchen is not a typical introductory experience. At the age of two, he suffered a water burn in his parent's kitchen that left him badly hurt. Though most would find this enough reason to steer clear of the culinary world, Jonas was different. The incident motivated him to immerse himself in cookery, spurring him to spend his formative years learning to create dishes like Pork Adobo in his family's kitchen. Whether it was learning to clean a fish under the watchful gaze of his father or obsessing over the famed cooking show "Iron Chef", Jonas says his vision of becoming a chef happened early, and he focused on it often.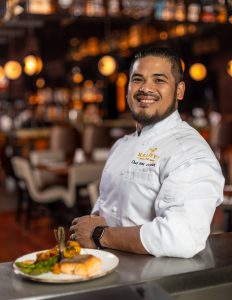 When his family moved from The Philippines to the United States in 1992, Jonas took a job as a cook in a local restaurant, but knew he could accomplish more. He enrolled in the prestigious Le Cordon Bleu in Chicago where he earned the nickname "Bulldog" from his mentors. They applauded him for his relentless focus on perfecting his craft.
Chef Jonas went on to work at a number of famous eateries including the 3-Michillian starred The French Laundry, but was drawn to the glitz and glamour of working in a resort. He remembered the awe-inspiring feeling of walking through the hotel where his grandmother worked and felt he should set his sights obtaining a role with a fancy resort. He spent time working at Trump Hotel Chicago, Fairmont Grand Del Mar, The US Grant, and Pendry San Diego.
Chef Jonas brings the same meticulous focus to Kelsey's as he looks to put a spotlight on true American cuisine. By focusing on robust and flavorful cooking, Chef Jonas highlights simple but powerful flavors that are pervasive in American cooking.
"Food is a very primal thing. It brings memories of comfort and ease," says Jonas. "I want to create that experience for our guests so can always come back and find that type of comfort here at Kelsey's."
When not in the kitchen, Jonas enjoys focusing on his health through exercise and martial arts. He also enjoys coming home and enjoying a meal prepared by his loving wife.
Kelsey's is located on the Casino floor at Pechanga Resort Casino. The restaurant is open Sunday, Monday, and Thursday from 4 p.m. to 10 p.m., Fridays and Saturdays to 11 p.m. The restaurant also has a wide selection of beers and specialty cocktails as well as over a dozen TVs running popular sporting events.