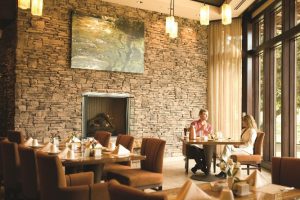 TEMECULA, Calif. — (June 14, 2017) – This Father's Day, treat dad to a full plate of his favorite feast food. Seven acclaimed Pechanga chefs selected favorites for their exclusive Father's Day menus on Sunday, June 18, for those looking to celebrate dad. Guests can enjoy dining options from casual, intimate or upscale, and from traditional to unique, accommodating large groups or even a romantic Mother's Day celebration for two. Special menus can be found at the globally-inspired Pechanga Buffet, the AAA Four Diamond Great Oak Steakhouse, Paisano's Italian, Kelsey's, Journey's End, Pechanga Café, and Umi Sushi & Oyster Bar.
The Pechanga Buffet will have a special menu from 9 a.m. – 10 p.m. on June 18 for $32.99, with children ages three to 11 for $14.99. Children younger than three are free. Up until 3 p.m., the Buffet will offer a brunch in addition to the select menu, serving up eggs benedict, huevos rancheros sopes, stuffed French toast, chile rellenos, and made-to-order omelets. All day, the select menu will feature more than 200 menu items, including internationally inspired dishes. Guests can look forward to a variety of fresh seafood, authentic Asian fare, traditional American specialties, off-the-grill smoked delights, Latin, a pasta station, soup station, and a carving station with four choice meats. Pechanga's in-house bakers create everything on the extensive dessert bar from scratch and with more than 20 dessert items and special Father's Day treats, including many sugar-free options. The buffet seats 454 people and serves as a perfect dining option for families and large groups.
If you're looking for an upscale feast, look to the AAA Four Diamond Great Oak Steakhouse. The night's pre fixed menu will feature the lobster bisque cognac cream and caprese salad followed by a 14 ounce center cut New York sirloin with shallot marmalade, foie gras butter, grilled asparagus and rissole potatoes for $65. The dessert special for the evening is a chocolate cigar filled with dark chocolate mousse and espresso sauce. The Great Oak Steakhouse's nightly menu will be served in addition to the Father's Day special. Open for dinner from 5 – 10 p.m., reservations are strongly recommended and may be made by visiting www.Pechanga.com/dining or by calling (877) 711-2WIN.
For an intimate dinner-for-two or to enjoy authentic Italian cuisine, check out Paisano's. The chef's hand selected meal starts off with an appetizer of steamed mussels with coconut and lobster broth, grilled pea shoots and crispy shallots. Guests will then enjoy the surf and turf with an eight ounce filet mignon and baked stuffed jumbo shrimp with grilled asparagus. The meal is complete with a coffee hazelnut cake, Frangelico sauce and vanilla ice cream. This entire pre fixed menu is available for $48 per person. Paisano's nightly menu will be served in addition to the Father's Day special. Open for dinner from 5 – 10 p.m., reservations are strongly recommended and may be made by visiting www.Pechanga.com/dining or by calling (877) 711-2WIN.
For a casual atmosphere with friends and family or if you're celebrating dad with a large group, Kelsey's is a great option. Guests can enjoy an appetizer of smoked pork belly sliders with a pineapple soy glaze for $8, followed by the featured entrée of grilled New York sirloin with chimichurri butter, grilled vegetables and fingerling potatoes for $27. If you've saved room for more, the cherry clafoutis cake with wheat ale foam will be the featured dessert for an additional $7. Kelsey's will be open from 11 a.m. – 10 p.m. and the new menu offering authentic barbecue, wood-fired pizzas and 48 beers on tap will be available in addition to the day's specials.
For a fun, Asian-inspired spread, Umi Sushi and Oyster Bar will host a Father's Day pre fixed menu of their own. Guests can start off by choosing either the king salmon carpaccio with ikura caviar, citrus, red onion, cilantro, tomato and chive oil, or the chicken yakitori with grilled skewered chicken wings in a spicy citrus sauce. After that, move on to the main entrée of the grilled center cut filet mignon with wasabi pave potatoes, glazed baby carrots, broccoli, parsnip puree, and soy demi-glace. The dessert special will be a pineapple carpaccio and coconut cake with green tea ice cream. The entire pre-fixe menu is $54 per person. Umi is open for dinner on Father's Day from 5 – 10 p.m.
Journey's End will be cooking up a savory brunch and barbecue all-you-can-eat buffet for $39. Children ages three – 11 are $21 and children under three are free. Journey's End is located at the Journey at Pechanga championship golf course at Pechanga Resort & Casino. Throughout the day from 9 a.m. – 3 p.m., the buffet will feature an array of selections including a pastry bar, breakfast selections, a live egg and omelet station, salad bar, fresh seafood, a carving station with roasted prime rib, au jus and creamy horseradish, and barbecue favorites such as Louisiana style seafood boil, cedar plank salmon with barbecue sauce, barbecue chicken wings, barbecue pork ribs, southern style baked beans, with dad's favorite summer sides of mashed potatoes, steamed vegetables, and grilled corn on the cob. Finish the meal off with an assortment of desserts, pastries, cakes and even an ice cream bar.
The Pechanga Cafe is open 24 hours and is a great meal option for those looking for a casual, quality dining experience any time of the day. The Café will feature a Father's Day menu of the herb marinated 20 ounce t-bone steak with loaded potato skins and Mexican street corn on the cob for $25.95.
Journey's End, as well as Pechanga Resort & Casino, feature complimentary valet parking. Journey's End is open to the public as well as to golfers playing the course. For more information on Pechanga's culinary offerings, visit www.Pechanga.com/dining.