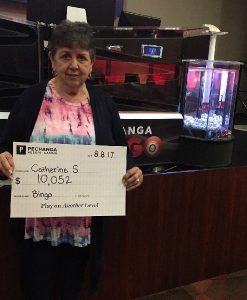 TEMECULA, Calif. – (Aug. 9, 2017) – Catherine Sarnecky of Oceanside, Calif. started her birthday out by heading one half-hour north to come to Pechanga Bingo's matinee session on Tuesday, Aug. 8. She marked her numbers among hundreds of other players during various games while sipping on some coffee. After about an hour, she realized something was different. Her bingo card number combination triggered a major jackpot payable to her. The retired coastal resident instantly received a $10,052.00 cash birthday present all from a $40 bingo buy-in.
"I could not believe it and I said to myself, 'I better watch my blood pressure,'" said Sarnecky. She immediately called her family who cheered for her over the phone.
She told Pechanga Bingo staff she plans to use some of the money to help her children, and will use the rest of the winnings for herself.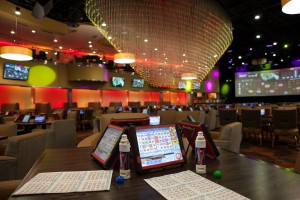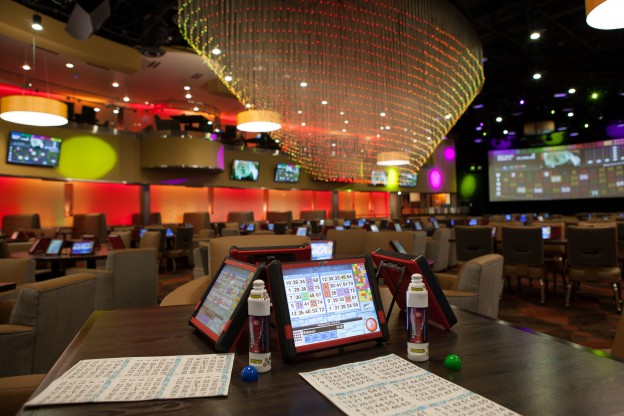 Bingo players should mark their calendars for September 24 for the Pechanga Bingo Fall Festival of Cash. More than $100,000 in cash and prizes will be given away during fun bingo games in the state of the art, 14,000 square foot bingo facility. Doors open and sales start at 11 a.m. Warm up games begin at 3 p.m. Early bird bingo starts at 3:30 p.m. and regular games get underway at 4 p.m. Winners could take home as much as $20,000 all to themselves. Pechanga Bingo is located on the second level of the casino and features a full bar and food menu.