-Kids Enjoy a Free Halloween Golf Clinic at Journey at Pechanga-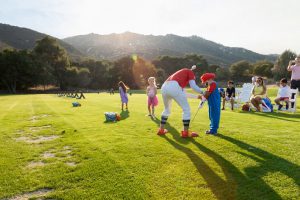 TEMECULA, Calif. (November 17, 2017) – Forty pounds of fun-size candy bars, lollipops, delicious chocolates, and other sweet Halloween treats will soon be sent to U.S. troops overseas and military veterans thanks to 20 very generous children in southern California, which is double the amount from last year. Each child who donated a portion of his or her hard-earned Halloween candy was awarded a free golf lesson.
Now in its second year, the "Candy for Golf" campaign was started by Journey at Pechanga's Director of Instruction, Randy Chang, in an effort to teach kids the importance of Veterans Day, how to live a healthy lifestyle, and perhaps most importantly, how to share with others.
Candy for Golf kicked off on Thursday, Oct. 26, with a free golf clinic hosted by Randy Chang. Kids dressed up in their favorite Halloween costumes and came out to learn some basic golf tips. Most of the little princesses and superheroes came back to donate their candy so they could help a veteran and continue to learn how to golf.
"We're going to teach them some great golf skills, but also some life skills. We're all about sharing and teaching the kids that sharing is a good thing," said Journey at Pechanga PGA Instructor Randy Chang.
From Halloween until Veteran's Day, Nov. 11, Journey at Pechanga accepted one full bag or container of Halloween candy from children and teens ages 3-18 years old. Through their generous donations, they were signed up for a free, one-hour golf lesson ($100 value) by the PGA pros at Journey.
For lessons, packages and to schedule a round of golf at Journey at Pechanga, call 866.991.PARR (7277) to book your tee time.