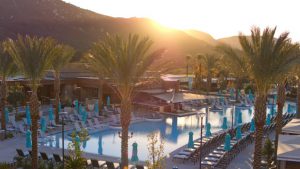 TEMECULA, Calif. – (March 25, 2019) – Pechanga Resort Casino needs to fill more than 100 jobs as it gears up for the busy spring and summer resort season. Lifeguards, pool supervisors, pool cocktail servers, aquatic technicians and many more are encouraged to apply and attend the Temecula resort's upcoming job fair on Wednesday, April 3 in the Pechanga Summit Events Center. Working an outdoor job in a resort setting can become an everyday reality for candidates.
The Pechanga job fair runs from 9 a.m. to 12 p.m. and 2 p.m. to 5 p.m. Job seekers are encouraged to apply online before attending the Pechanga job fairs. Candidates should visit Pechanga.com/careers. Those not able to apply online will be able to complete an application at the job fair.
Pechanga hiring managers will be available for on-site interviews and ask candidates to dress for success and to bring their resumes. Most positions at Pechanga require candidates to be 21 or older, however there are some available to those 18 and older. Please check the website for specific criteria for a certain job posting. Some candidates may be offered jobs on the spot at the job fair.
Jen Ochoa began working at Pechanga five years ago as a casino cocktail server. Last year, she transferred to The Cove serving up slushy and tropical drinks to pool clientele. "I love being outside and interacting with the guests at the pool and cabanas. You do pretty well financially, too, I have to say," she said as she delivered a margarita to a guest sitting poolside on a recent mid-March sunny day.
"For applicants wanting to work here, show up with a smile and personality," she recommends. "This is such a people-centric job. Managers want to see you have great work ethic and an upbeat personality. The guests can tell when you're not all the way invested."
Positions vary from line level to supervisory and management jobs. Entry level positons at Pechanga start at $11.00 per hour, the California minimum wage, and up.
Pechanga opened its $300 million expansion in March 2018. With the additions came the 4.5-acre Cove pool complex, a 25,000 square foot spa, 68,000 additional square feet of meeting and event space, 568 additional rooms and suites, two new restaurants, and a 2,400-space parking structure.