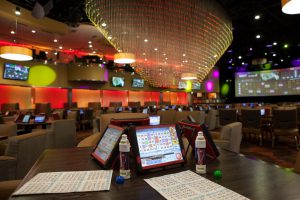 TEMECULA, Calif. (March 29, 2019) – Spoiling Mom on Mother's Day is a ritual unlike any other. And the Pechanga Bingo Room is a bingo room unlike any other. On Mother's Day, May 12, Pechanga Resort Casino treats Moms to its annual Mother's Day Bingo Bash.
Always one of the most popular tournaments on Pechanga Bingo's schedule, the Mother's Day Bingo Bash will give away a guaranteed $40,000 in cash and prizes – all from the palatial environment of Pechanga's Bingo Room. Located on the second floor, above Pechanga's sprawling main casino, the Pechanga Bingo Room features comfortable chairs and couches, a full bar and a pleasant, welcoming environment unlike any bingo hall Mom has ever seen.
"We always get comments on how beautiful our bingo hall is and we take a great deal of pride in offering our guests an amazing experience," said Pechanga Bingo Manager, Mary Whitten. "This is always one of our favorite events of the year, because we love seeing how thrilled Moms get when they 'bingo' on their special day."
The Mother's Day Bash Bingo Tournament begins at 3 p.m. It features 10 regular-session games that pay $1,199, three special games with a $2,500 consolation prize and two special games paying a $5,000 consolation prize.
Tickets to the Mother's Day Bash Bingo Tournament, which are available by visiting Pechanga.com/Bingo, the Pechanga Box Office or by calling (877) 177-2946, start at $40 for pre-sale paper buy-in and $75 for pre-sale electronic buy-in. Electronic pre-sale buy-ins receive a 36-card upgrade.