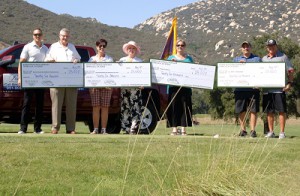 Pechanga Indian Reservation, CA, Aug. 24, 2015 – Pechanga's two-day charity golf tournament has raised more than $100,000 with the entire amount going to help homeless, foster children and others in need. The Pechanga Charity Golf Classic was held at Journey at Pechanga golf course August 19 and 20 and included 368 golfers. The proceeds from the tournament fund vital programs serving the community at four regional non-profit organizations – U.S. Vets Inland Empire, Safe Alternatives for Everyone, Rancho Damacitas Children & Family Services, and Project TOUCH.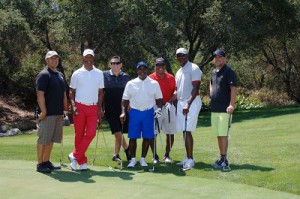 In its 17th year, the Pechanga Charity Golf Classic has brought together Tribal government, Indian gaming industry leaders, media partners and celebrities to raise more than $1 million for critical nonprofits throughout the region.  The two-day event has grown to include more than 300 golfers.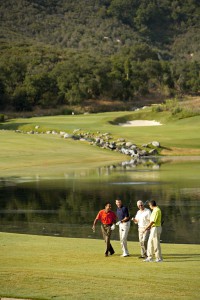 "We deeply appreciate the work these service groups do for our area's veterans, homeless families, and our young people," said Patrick Murphy, President of the Pechanga Development Corporation.  The organizations amaze us with what they can accomplish in the lives of our neighbors in need. We are honored to support their vital efforts which essentially make our community stronger."
"You're rich by what you give, and poor by what you keep," said former NFL player and tournament golfer Marcus Allen. "You can give money, time, bringing attention to certain causes like this, it's the right thing to do." 
U.S. Vets – Inland Empire
U.S.VETS is a private non-profit organization providing housing, employment and counseling services to our nation's veterans, the men and women from all branches of the armed forces who have served their country from World War II to the current conflict in Afghanistan.
U.S.VETS – Inland Empire is located at the March Air Reserve Base in Riverside County and provides housing and support services to 130 veterans each day. Our Community Office in San Bernardino County offers services to an additional 157 veterans and their families throughout the Inland Empire. U.S.VETS personnel go into the local community to find homeless veterans and guide them to crucial services that might help alleviate the challenges they face as a result of their homelessness.
The range of services includes housing and employment assistance, as well as access to veterans' benefits and treatment for mental and physical health problems and substance abuse.
"In 2015, we served over 68,000 meals and kept 819 veteran households (including 222 children) from living on the streets.  However, the toughest engagements still lie ahead and together we will continue to rescue the most troubled veterans and their families from the streets," said Eddie Estrada, Executive Director. "Your donation will directly help us provide meals that will fill an empty stomach and nourish a hurting soul. On behalf of our veterans, thank you for your generous contribution."
Safe Alternatives for Everyone
S.A.F.E. is committed to providing services for children, youth and families who have experienced or are at risk of abuse and violence.
Safe and healthy families where children can thrive is a universal vision. In some homes, however, there are problems of abuse and violence, and in some cases the problems are severe. Because abuse and violence are not limited to any particular family or community, services to address the complex nature of children, youth and families struggling with abuse or violence are imperative. S.A.F.E. provides those services. Our vision is of parents, schools, businesses and agencies working together to make a difference in the lives of children, youth and their families
"S.A.F.E is honored to be a recipient of Pechanga's generous donation. Pechanga has been a valued partner to S.A.F.E. for many years.  Our partnership has enabled S.A.F.E. to continue lifesaving and life changing services for children and families in our community to live abuse and violence free lives and to build safe futures," said Patti Drew, Development Coordinator.
 Rancho Damacitas Children & Family Services
The mission of Rancho Damacitas Children & Family Services is to end the cycle of child abuse by providing comprehensive care and compassion for abused and neglected children and young adults through life-enriching opportunities and strength-based, solution-focused programs and services.
Our vision is to nurture, empower and develop self-sufficient, well-educated, healthy young adults who become thriving, contributing members of our community.
"We are extremely thrilled to be a part of this year's Annual Pechanga Charity Golf Classic. The proceeds donated from this charity event allows us to continue to provide excellent services, with a unique homecare facility – home to 36 kids, and our amazing strength based programs designed to support & empower foster kids to get healthy, be successful & educated contributors within our community. Opportunities like this impact the lives of foster youth & help Kids Soar!" says Cal Winslow.
Project TOUCH
The mission of Project TOUCH is to bridge individual and collective bodies of faith within our communities together with civil and business organizations to effectively overcome homelessness and establish effective methods of homeless prevention.
"Project T.O.U.C.H is sincerely appreciative for the generous support Pechanga is providing through this event. These funds will help us open our new 22 bed 4-Plex facility. They will also help with our transportation service, allowing rides for urgent medical, social service, and employment appointments," said Anne Unmacht, Director.
Pechanga Band of Luiseño Indians
The Pechanga Band of Luiseño Indians is a federally recognized Indian tribe that has called the Temecula Valley home since time immemorial.  After years of hardship and mistreatment by settlers, the Pechanga Indian Reservation was established by presidential executive order in 1882, affirming the Tribe's sovereign rights and land-base.  The Pechanga Band directly employs over 5,000 people and owns and operates the award-winning Pechanga Resort & Casino, one of the largest gaming facilities in the United States.