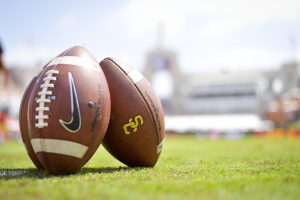 LOS ANGELES, Calif. – (September 24, 2021) – In a first of its kind agreement in California, Pechanga and the University of Southern California announced a new sponsorship agreement that establishes a university-tribal education alliance and creates an annual scholarship fund.
Under the agreement, the Pechanga Resort Casino was designated as the Official Resort & Casino of the USC Trojans and an official partner of USC Athletics. The partnership stands apart from other Pac-12 schools and California casinos and tribes with the establishment of the education alliance. Pechanga has committed an additional $200,000 per year to further students' higher education goals.
"We are very excited about the scholarship fund and the opportunity to establish and deepen a formal relationship between the Tribe and the University," said Mark Macarro, Tribal Chairman of the Pechanga Band of Luiseño Indians. "This partnership will result in new and meaningful enrichment opportunities for Native youth."
"Pechanga has a very long and proud history of giving back to the community," said Andrew Masiel, Sr., President of the Pechanga Development Corporation. "I love going to USC games because they're an experience. The energy, physical ability and dedication the student athletes exude week after week is what we hope to show our own Pechanga youth. And to be able to contribute to students' next chapters in life so they can become the doers and leaders of tomorrow, this is where our hearts are. We are honored to know our contribution and this partnership will resonate throughout our Southern California community for years to come."
"We are thrilled to announce this inspiring partnership with Pechanga Resort and Casino," said director of athletics Mike Bohn. "Their commitment to community initiatives and cause marketing is aligned with our campus values and represents the foundation upon which this alliance is built. The future of our partnership is so bright because of our shared dedication to the development of young people and positively impacting our community. This relationship is much more than the typical sponsorship agreement, and we are extremely excited to set a new industry standard in this space. We're grateful to Pechanga leadership for supporting our university and student-athletes."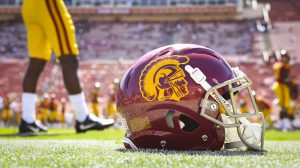 The Pechanga and USC partnership extends across the NCAA collegiate football season, men's and women's basketball season, the USC Trojans Radio Network, digital and social platforms, USC Athletics and extensive community outreach and cause-based initiatives.
Audiences will see Pechanga's logos and name inside the Los Angeles Memorial Coliseum, home of USC Trojans football. Pechanga and USC plan to share more details of the scholarship and University-Tribal Education Alliance in the weeks ahead, as well as additional support and involvement in special charitable causes important to both Pechanga and USC.