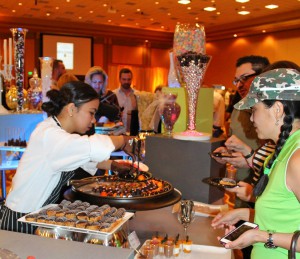 TEMECULA, Calif. (Oct. 13, 2014) – If a night of sampling gourmet cuisine from the area's top chefs sounds like the idea of a good time, The So Cal Chef Open in Temecula is the place to be on Monday, October 20.
Happening inside the Pechanga Resort & Casino Grand Ballroom, foodie festival goers can experience intense flavors and fresh ingredients in dishes made by 12 culinary experts. Attendees will be able to sample their way around the room as they vote for their favorite chef and favorite dish of the night. The chefs and their dishes will also be scored by a panel of celebrity judges including Steve Cazel ("Cutthroat Island," "Survivor"), Amanda Colello ("Hell's Kitchen"), Comedian Rocky Osborn (Aces Comedy Club) and last year's "Judges Pinnacle Award" winner, Chef Steve Stawinski (Wilson Creek's Creekside Grille).
This foodie experience starts at 4:30p.m. and has historically hosted more than 400 guests. Entry is $45 online or at the door, or $35 if purchased from participating restaurants. Ticket price includes unlimited tastings from all food vendors. For tickets or more information, call Oak Grove Center at
(951) 677-5599 or visit www.oakgrovecenter.com and click on "Events." 
This year's group of competing chefs promises to deliver a wide array of dishes providing a true culinary experience to all ticketholders. Confirmed competitors include: Chef Bracken Blucher (Baily's Old Town Temecula), Chef Steve Bearse (The Grille at Eagle Glen Golf Club), Chef Leone D'Arcangelo (Fresco Trattoria & Bar), Chef Mike Newhall (First Class Catering), Chef Rosie O'Connor (Provecho Grill), Chef Michael Cragg (Temecula Catering), Chef Pietro Cinus (Trattoria Toscana), Executive Chef Damian Stanley (Pechanga Resort & Casino), Chef Tony Xu & Chef John Wu (Yuan Boutique Bistro), Chef Louis Lepe (La Bella Vita), and Chef Richard Bustos (Heart Of The House Catering).
ABOUT OAK GROVE
Oak Grove Center for Education Treatment & The Arts, is a non-profit, 24-hour residential, educational and therapeutic treatment center, located in Murrieta, CA which serves as a treatment facility for 76 youth who receive 24-hour residential care and educational services. Additionally, 70-80 students attend the nonpublic school at the Murrieta campus. Oak Grove at the Ranch in Perris, CA is the second campus where 35 students attend the nonpublic school providing special education. Students attending Oak Grove Center are referred from San Diego, Los Angeles and Riverside Counties. For more information on Oak Grove Center, visit www.oakgrovecenter.org.