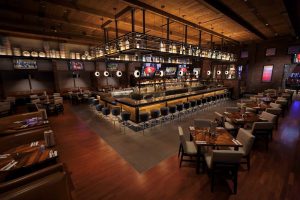 TEMECULA, Calif. — (Jan. 7, 2019) – Rams-Chargers? Patriots-Saints? Chiefs-Cowboys? However the big game match-up shakes out come February 3, one question remains. Where will you watch it?
In order to leave the chaos of throwing your own gridiron game party, put the ball of cooking and the location in the hands of the experts at Pechanga Resort Casino. This big game Sunday, Kelsey's offers guests two distinct parties. Football fans will see the sport's biggest day on every restaurant flat-screen TV and on giant projection screens for better viewing. Of course, no party is complete without food and drinks.
For $45 per person starting at 3 p.m., Kelsey's offers a game-day buffet. At the starting lineup, guests get to the first down marker after tackling the nacho and taco bar. The movement down the line continues at the hot buffet stations filled with tempting routes including crab and shrimp enchiladas, buffalo & agave sauce chicken wings, buffalo mac & cheese, BBQ pork spare ribs and prime rib sandwiches. That's sure to score another first down with hungry game enthusiasts. The carving station features smoked prime rib and smoked kielbasa sausage for an easy yardage pickup. For the buffet touchdown, finish off with the chef's fresh tropical salad.
Drink specials count as extra points. Guests will find $4 Corona, $5-16oz. draft beers and $12 beer buckets.
Guests wanting to see the big game also win when they make plans to go to Kelsey's Loft. Starting at 1 p.m. and $27 per person, the venue features the game on all screens with a pre-party and a buffet. A live DJ will spin music, show clips from past championships and halftime shows, host trivia and giveaways.
The buffet features the "build your own dirty fries" bar. You choose chips or fries. Toppings include pork belly, carne asada, chicken, gravy and chili. Go for the two-point conversion with more delicious add-ons such as cheese curds, shredded cheese, buffalo sauce, cheese sauce, grilled onions and green onions.
Guests can also challenge the all-you-can-eat taco bar filled with carne asada, chicken, guacamole, pico de gallo, sour cream and jalapeños. Bacon-wrapped hot dogs also make a buffet appearance on special teams.
Kelsey's Loft drink specials take the ball all the way downfield with $12 beer buckets, $15 pitchers and $4 Patrón and Patrón margaritas.