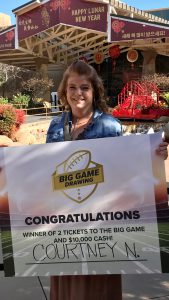 TEMECULA, Calif. (Feb. 8, 2022) – The anticipation in the air became heavy inside Pechanga Resort Casino just before 10 p.m. Friday, February 4. Guests gathered to find out whose name would be chosen in the Big Game Promotion drawing, determining who would win tickets to one of the most watched sporting events in the world. As those present listened in hopes theirs would be called as the lucky winner, they heard the name Courtney Nakatani of Temecula broadcast over the casino/resort's internal speaker system. At Pechanga that night to celebrate her birthday, word of the big win got to Courtney. She reported to the Club desk one hour later to claim her big prize.
She told Pechanga staff she would take her husband to the big game, and that she would spend some of the $10,000 prize money to shop for a gift for herself for her birthday, as well as use some to come back to Pechanga. Courtney received countless congratulations from other guests, and a few admitted they were a little jealous of her and her big ticket win.
Courtney Nakatani will be watching the Feb. 13 game in person, but for anyone else wanting to get a great seat for viewing the gridiron action, Kelsey's restaurant at Pechanga will be the place to be. Kelsey's opens at 12 p.m. with teams taking the field at 2 p.m. Guests can enjoy starters including buffalo style chicken wings, chili con carne and cornbread, nachos with chicken or steak, jalapeño poppers and loaded mac & cheese. Starters range from $9 to $16.
For a healthy game time meal, try the mixed greens, charred corn salad or Caesar salad for $12. And for entrees, a 12 ounce prime rib, BBQ chicken thighs with charred corn and coleslaw, fish & chips, Kelsey's classic burger, the hangover burger, smoked tri-tip with roasted vegetables, 3 tacos with choice of carnitas or chicken asada. Prices range from $14 to $36.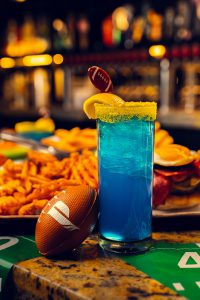 To celebrate the game with a refreshing cocktail, order up a Los Angeles Lemonade at the Round Bar, Acorns Bar or Center Bar at Pechanga Resort Casino. A blend of citron vodka, blue curacao, and sweet and sour with a bright yellow sugar rim, the beverage looks electric as its colors cheer on the Southern California team. Guests can find the Los Angeles Lemonade only on Sunday, February 13 for $10.50.