See who refers to Pechanga as a go-to-destination.
Here is what Corporate & Incentive Travel has to say about Pechanga Resort Casino.
Click here for the full story.
With an office in Temecula, California, choosing Pechanga Resort Casino for an annual trade show was an obvious choice for Rosalinda Orozco, HR manager and event planner with Southwest Traders Inc., a product distribution company with centers throughout the west. This year's trade show drew about 500 attendees.
"We chose Pechanga as a venue not only because of the convenience that it's in the same town as our warehouse, but also because it's the halfway point to our customers in San Diego and Los Angeles," Orozco says.
But it was more than just location. "Pechanga Resort Casino has something for everyone to enjoy," she adds. "Pechanga will have whatever you need. And if not, they will do their best to make it happen."
While the casino was not part of the meeting, Orozco says, "The casino itself and the new pools were an added bonus to attract our customers."
She did have some concerns that not all customers would like meeting in a casino venue. "We made sure that everyone knew that Pechanga is not just a casino and that it has many other things to offer. And we did offer our best customers a free night to enjoy the resort."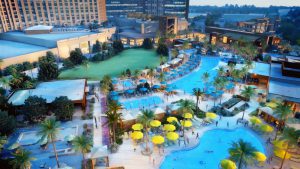 Orozco's group didn't have any need to go off-property. "We didn't have to use another venue. Pechanga has everything you could possibly need. We used hotel functions for our vendors and guests. Rooms were very nice, and I heard everyone loved the new pools," Orozco says, noting that the resort had recently been renovated. "The proximity to the rooms from the conference hall was very close, and our conference space was exactly everything we needed and more."
The group made use of the resort's A/V and Wi-Fi, which Orozco describes as "great." She also has high praise for Pechanga's A/V staff. "The A/V manager was always checking to see how things were going. There were no issues."
In fact, she notes, "Every staff member at the hotel was super friendly. You couldn't ask to work with anyone better than our sales manager and our catering and conference managers. They are always one step ahead."
Some of the Southwest Traders Inc. attendees took part in a tournament at the resort's golf facility. "We had a golf tournament the day before our product show," Orozco says. "It was amazing. The golf course is beautiful and our guests really appreciated the venue."
As for meals, the group used a couple of different options for dinners: Journey's End, one of the resorts many dining venues, as well as one of the conference halls. "The food was absolutely amazing," Orozco says. "Everything was superb and we received a lot of compliments on the quality of the food."
If there's any downside, it's that Pechanga is increasingly growing in popularity. "Plan ahead," Orozco advises, "because the word is getting out about how great Pechanga is for an event. It is a go-to destination for sure." Orozco and Southwest Traders Inc. were so pleased with the meeting this year that they've already selected Pechanga Resort Casino for next year's  show.