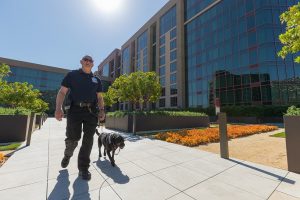 TEMECULA, Calif. – (July 16, 2018) – John Tipton and Daisy walk the perimeters and guest areas of Pechanga Resort Casino getting stopped everywhere they go. Guests ask questions such as, "how do I find the pool," "where can I find the phone I lost" and "can I pet your dog." Daisy, a rescue and lab/terrier mix, became Tipton's support canine after he was diagnosed with PTSD.
After a three-year search for a job that would allow the 22-year U.S. Marine Corps veteran to bring Daisy to work, he landed at Pechanga. He applied to the resort-casino's new workplace program designed specifically to hire former military along with their prescribed service dogs. Pechanga hired Tipton as a Public Safety Specialist onto its internal Department of Public Safety (DPS). With Daisy, they became the 301st and 302nd team members of the resort's security team that intends to hire at least 10 former service members with service dogs.
"It takes the right person in the right spot for something like this to happen and I'm so grateful for the opportunity to be here," said Tipton, who has the title, DPS Specialist. "So far, both Pechanga guests and team members have responded positively and excitedly about mine and Daisy's addition to the team. A lot of people have said 'it's about time someone gives those with disabilities a chance,' so I think our society is trending in the right direction."
For three years, Daisy has helped Tipton through difficult times that sometimes occur in response to his time serving the country. Daisy came to Tipton as a highly trained service animal from Next Step Service Dogs, a local non-profit who trains service dogs to greatly improve the quality of life for veterans, active military and first responders who have PTSD, TBI and/or mobility limitations. Tipton spends his free time volunteering at the organization and possesses a wealth of knowledge in service dog training, which he is already putting to good use in his new role at Pechanga. Before a candidate and their four-legged partner is hired into the program, the service animal must go through a temperament test, now evaluated by Tipton.
"These individuals have so much to offer our society that it's a waste not to consider those with disabilities and their service dogs," said Robert Krauss, Pechanga vice president of public safety. The first time I heard John's story, I knew he wasn't the only one with issues finding a job where he could bring his service dog to work with him – I just knew we had to do something to help. We were able to launch a program to hire 10 individuals and their service animals, like John and Daisy, to join the Pechanga Department of Public Safety and so far it's been incredibly successful. Public safety is imperative to the guest experience here at Pechanga and these new teams are a huge benefit to patrolling the perimeter and ensuring guest and team member safety."
The 10 dog/handler teams will all be hired as Pechanga DPS Patrol Specialists and will be responsible for ensuring a safe environment at the resort-casino at all times. They will also be responsible for patrolling the external areas of Pechanga Resort Casino including parking structures, pool facilities, team member entrances, RV Resort, golf course, and Gas Station. Pechanga treats the service dogs as actual Team Members. They receive breaks (usually outside) and time to eat and hydrate. Every day, Tipton dutifully pins on Daisy's security badge and he never forgets a collapsible water bowl and extra treats.
To apply for one of the nine remaining positions or for more information, visit Pechanga.com.