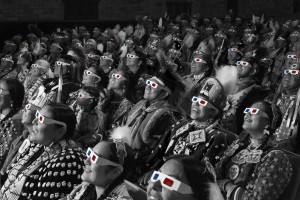 TEMECULA, Calif. (Nov. 1, 2016) – California's American Indian & Indigenous Film Festival (CAIIFF), sponsored by Pechanga, is hosting its fourth annual film festival November 17 – 19 from 4:30 p.m. to 9:30 p.m. on Thursday and Friday, and from 12 p.m. to 10 p.m. on Saturday. The 2016 CAIIFF will feature a line-up of over 25 films, shorts and documentaries by American Indian & Indigenous filmmakers, producers, directors, and actors as well as offer several Q&A sessions with the stars, and feature an exclusive invite-only reception to honor those making a significant impact in the industry. There will be more than 25 films, shorts and documentaries covering topics about Native American lives, interests and issues, as well as tribal culture, language revitalization, and the preservation of natural and cultural resources. Tickets are $7 – $10. To purchase tickets, www.caiiff.com/tickets.
The festival will honor acclaimed actor and musician Wes Studi, who has starred in several award-winning films, including Avatar, Geronimo, Last of the Mohicans, and Dances with Wolves in 1990. The CAIIFF is planning a special 25th year anniversary screening of Dances with Wolves at Pechanga followed by a Q&A with cast members. A three-day event featuring the best in American Indian and Indigenous film, shorts and documentaries, the first two days are held at California State University San Marcos and will conclude on the third day at Pechanga Resort & Casino on Saturday, November 19.
This year's event will feature the following screenings and Q&A sessions:
100 Years: One Woman's Fight for Justice (Q&A with Melinda Janko immediately following screening)
Te Ata (Q&A with Q'orianka Kilcher immediately following screening)
Pow Wow Highway (Q&A with Gary Farmer immediately following screening)
U.S. Premier of Maliglutit "Searchers"
Dances with Wolves (Q&A with Wes Studi immediately following screening)
The Only Good Indian (Q&A with Wes Studi immediately following screening)
The VIP reception featuring Wes Studi and several other notable celebrities will be held at the Eagle's Nest at Pechanga on Saturday, November 19, from 5:30 p.m. to 6:30 p.m. Wes will be honored for exemplary performances and career achievement in Dancing with Wolves for its 25th anniversary as well as his other roles in American Indian films. A painting by celebrated artist and filmmaker Steven Paul Judd will be created that night and later auctioned off at the event.
*The VIP reception is not open to the public. Credentialed media are welcome to cover the event.
Members of the media should contact Jessica Newton at 951-526-1867 to cover the Saturday Pechanga screenings, Q&A's or the VIP reception.
To get a sneak peak of the 2016 CAIIFF, check out the demo reel from last year's event: www.caiiff.com/.