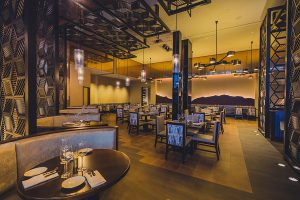 TEMECULA, Calif. — (April 24, 2019) – There's nothing more gratifying than seeing the smile on Mom's face when she takes her first bite of one of her favorite foods. And Pechanga Resort Casino's acclaimed chefs know this when they create their Mother's Day menus, which are available at Pechanga to honor Mom on Sunday, May 12.
Guests can enjoy dining options across the culinary spectrum, from casual to intimate to upscale and from traditional to unique. And Pechanga makes it easy by accommodating any size group, from a romantic couple to the extended family.
Special Mother's Day menus can be found at the Pechanga Buffet, the AAA Four Diamond Great Oak Steakhouse, Paisano's Italian, the Lobby Bar & Grill, Kelsey's, Journey's End and the Pechanga Café.
Those seeking the full spectrum of variety can find it at the Pechanga Buffet, where more than 200 items from around the world await. From 9 a.m. to 3 p.m., the Buffet offers your traditional brunch items, such as Eggs Benedict, a made-to-order omelet station and French Toast stuffed with strawberries. All day, the special menu offers a culinary trip around the world, with fresh seafood – including whole lobsters flown in fresh from Maine — authentic Asian and Mexican fare, traditional American food, a pasta station, off-the-grill smoked delicacies and the always-favorite carving station featuring prime rib, roasted turkey, maple glazed ham and tri-tip. Of course, the buffet's famous dessert bar is stocked with more than 20 dessert items, along with special Mother's Day treats, including many sugar-free options. The Pechanga Buffet is $49.99 for adults and $22.99 for children 3-11.
For a buffet with spectacular scenery of the Journey at Pechanga golf course and the surrounding mountains, take Mom to Journey's End. From 9 a.m. to 3 p.m. a sumptuous bounty of brunch items are available, including breakfast favorites such as Chicken Fried Steak, made-to-order eggs and omelets, a pancake creation station with a host of toppings and a wide variety of pastries and fruit. On top of that, there's a seafood bar with oysters, shrimp and crab legs and claws, a carving station with prime rib and striploin of lamb and entrees such as roasted salmon, tequila lime chicken and rigatoni pasta primavera, along with the usual array of tasty pastries and desserts. The Journey's End Mother's Day Brunch Buffet is $49 for adults and $24 for children 3-11.
Pechanga's third buffet choice comes from the Lobby Bar & Grill, where for $36 from 9 a.m. to 2 p.m., you can treat Mom to not only breakfast/brunch selections, but entrees such as roasted lemon pepper chicken, red wine braised short ribs, slow roasted salmon, a made-to-order pasta bar, carving station with coffee-rubbed tri-tip and Cajun roasted turkey, a seafood station and ice cream sundae bar. As Mom is enjoying her brunch, she'll be serenaded with live entertainment throughout.
For a more upscale Mother's Day feast, there's the AAA Four Diamond Great Oak Steakhouse. Pechanga's flagship restaurant offers a prix fixe menu of spiced beets with organic red kale, frisee, bacon lardons and orange saffron dressing, followed by a prime filet of beef with Tristan lobster and vegetables and a honey panna cotta with peach gelee' for dessert. The three-course dinner is $119 per person and the Great Oak Steakhouse's regular menu will be served in addition to the Mother's Day special. The Great Oak Steakhouse is open from 5-10 p.m., reservations are strongly recommended and may be made by visiting www.Pechanga.com/dining or by calling (877) 711-2WIN.
If it's intimacy and Italian you seek, you can find it at Paisano's. Chef Jordan Garcia created two special entrees: wild mushroom ravioli with prosciutto ragout, fava beans and fried leeks for $24, and a pan-seared king salmon over polenta mousse with summer vegetables and a lime basil foam for $32. Make sure Mom saves room for chocolate dome with raspberry lemon for $7. Paisano's nightly menu will be served in addition to the Mother's Day special. Open for dinner from 5 – 10 p.m., reservations are strongly recommended and may be made by visiting www.Pechanga.com/dining or by calling (877) 711-2WIN.
Barbecue meets brunch at Kelsey's, which features a tasty combination of breakfast items such as a made-to-order egg and omelet station and pastries along with entrees such as pan-seared breast of chicken with mushroom marsala sauce, roasted salmon with papaya and pineapple salsa, crab and shrimp red enchiladas and a carving station with smoked prime rib and roasted turkey breast. Along with a dessert station and salads, Kelsey's regular menu of barbecue items and wood-fired pizza will be available. Open from 11 p.m. to 10 p.m.,
Kelsey's Mother's Day Brunch is $32.
If you're looking for a versatile, casual, quality dining experience, there's the Pechanga Café. Open 24 hours, its Mother's Day special is a grilled salmon fillet with honey glaze and chopped macadamia nuts with mashed potatoes, green beans, sweet chili and fried carrot garnish for $32. Have Mom save room for strawberry cheesecake for an additional $5.95.
Journey's End, as well as Pechanga Resort & Casino, feature complimentary valet parking. Journey's End is open to the public as well as to golfers playing the course. For more information on Pechanga's culinary offerings, visit www.Pechanga.com/dining.