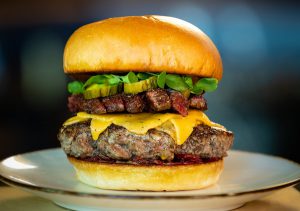 TEMECULA, Calif. — (May 30, 2019) – With ingredients including locally raised beef, Cotswold pub cheese, homemade aioli, pickles and Brussels sprout sauerkraut, beef belly pastrami, San Diego-grown microgreens, fresh brioche bun, and Escondido-grown king trumpet and shitake mushrooms, one can tell Chef Jose Mendoza likes community in his food. These components make up Mendoza's new Psycho-Deli Burger which can be found on the Lobby Bar & Grill's menu for $16 starting Monday, May 27.
Mendoza, the head chef of the Lobby Bar & Grill at Pechanga Resort Casino, is one of 266 United States chefs with specialty mushroom-blended burgers entered into the James Beard Foundation's Blended Burger Project. The competition asks chefs to create a burger with at least 25-percent mushrooms, put it on their menus, invite guests to try it, then vote for it in the competition. The top 25 burgers with the most online votes go on to the finals in which a panel of food experts selected by the James Beard Foundation will determine five winners. Chef Jose Mendoza ultimately hopes his Psycho-Deli Burger catches the public's and the experts' attention.
But through participating in the contest, he also hopes to bring more awareness to the importance of food sustainability.
"We are so incredibly lucky in southern California to have an abundance of fresh produce, meats, seafood, fresh herbs and so much more at our fingertips," said Mendoza. "Through my burger entry, I hope our guests love it and vote for it. And I want them to leave with the knowledge that cooking with more mushrooms and less meat does amazing things for the planet. We use less water, people get more healthful benefits."
Mendoza sources his burger's mushrooms from Mountain Meadow Mushrooms, a farm in Escondido, Calif. "When I went to visit the mushroom farm, it was truly an education for me," the chef said. "They recycle everything. They get 350 truckloads a year of used straw and its contents from the Del Mar Thoroughbred Club. They let that material sit, and then because of its high amounts of nitrogen, it's used to help grow the mushrooms. There are dozens of kinds of mushrooms grown there."
Born and raised in Valley Center, California, Mendoza likes the fact he can draw from the region's bounty. And he appreciates mushrooms' benefits both for health and for the planet. According to Foodrevolution.com, mushrooms are low in calories, offer fiber and protein, and provide important nutrients including B vitamins, selenium, potassium, and more. They also emit cancer-fighting elements according to biologists. Scientists say fungi feed off the sickness of other plants, cleanse pollutants from the ground and much more that aid the health of the planet.
"Guests look to chefs as the authority on food, and so we can help set the model for sustainability," said Mendoza. "Programs like the Blended Burger Project inspire us to create healthier, more sustainable foods without sacrificing taste. For anyone who is a meat eater, try swapping out just an eighth to a quarter of the next burger patty you make at home with finely chopped mushrooms. You will not miss anything. In fact, you will get an amazing umami flavor along with it."
Chef Jose Mendoza would love everyone's vote for his Psycho-Deli burger. Voting runs from Monday, May 27 through Wednesday, July 31. Visit JamesBeard.org/blendedburgerproject/vote and look for The Lobby Bar & Grill. Chef Jose says a vote for his burger is a vote for the region's culinary sustainability. If he wins, he gets $5,000 and a trip to New York City to make the burger for celebrity chefs. Plus, it lets him keep the Psycho-Deli Burger on the Lobby Bar & Grill menu indefinitely.