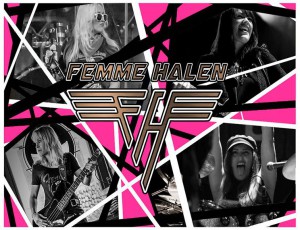 TEMECULA, Calif. — (September 21, 2016) – Pechanga Resort & Casino hosts a hard-driving heavy metal concert featuring the tunes of Iron Maiden, Van Halen and more, all in honor of breast cancer awareness this October. Pechanga's 3rd annual "Rockin' for the Cure" benefit concert is on Saturday, Oct. 15, at 6 p.m. Tickets are only $5 and available to the public.
The Oct. 15 concert inside the 1,200-seat Pechanga Theater features three popular, all-female heavy metal cover bands who regularly tour in Los Angeles, San Diego, Palm Springs, Northern California, cruise ships, and more. Two bands comprised of Pechanga employees (these guys can rock) will open for the hard rocking ladies. Bands include:
The Iron Maidens
Femme Halen
Streetwize
Negative Void
Smashing Alice
This is the first year the "Rockin' for the Cure" show features three nationally touring cover bands. These women, who travel all around the country to perform, agreed to make a pit stop in Temecula and perform at no cost in honor of the cause for which they feel so strongly. These rockstars hold a special place in their hearts for breast cancer awareness and for raising funds for research.
Chrissy Marquez, Femme Halen's drummer, recently lost a good friend and mentor to breast cancer. Other band members have family who are currently battling with it, two of them having lost their breasts. Their experience will put them on stage to help fight for their families and others. Chrissy is available for interviews.
The benefit concert marks one of the only charity concerts held in the Pechanga Theater on a Saturday night where 100 percent of the proceeds will go to Susan G. Komen Race for the Cure Inland Empire. Tickets can be purchased at the door or online. All ages are welcome.