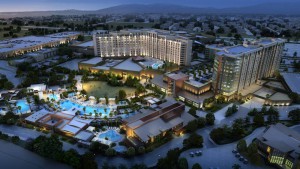 PECHANGA INDIAN RESERVATION, Calif. – (Dec. 16, 2015) – The Pechanga Band of Luiseno Indians held a ceremonial ground breaking today on its much anticipated $285 million resort expansion. Tribal officials gathered around a circular mound of dirt near the property's hotel entrance and sunk their gold-gilded shovels into the ground as Tribal Members, local officials, the media and resort management looked on and cheered. When completed in approximately two years, the Pechanga Resort & Casino will more than double the size of its resort amenities, and add more than 3,500 jobs to the region.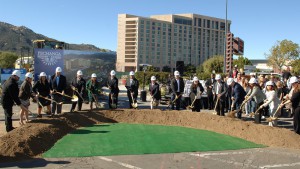 (Media: CLICK HERE for downloadable B-roll from the event & Sound Bite from Pechanga Tribal Chairman, Mark Macarro.)
CLICK HERE for photos from the Ground Breaking.
Today, with the Eagle IV Expansion, we celebrate the beginning of the next chapter of Pechanga Resort & Casino and our history," said Tribal Chairman, Mark Macarro. "This development will build upon the quality and reputation of the original resort and continue our Tribe's entrepreneurial spirit for future generations. We are grateful and proud as a Tribe to be in a position to strengthen tourism in the Temecula Valley and Southern California with this project."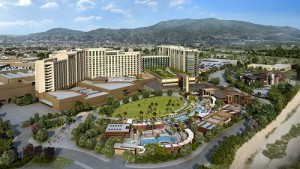 The project involves adding a new, AAA Four Diamond, 568-room and suite hotel wing; a stand-alone luxury two-story spa and salon with 17 treatment rooms, a fitness center and hydrotherapy pool terrace; a resort-style pool complex with eight pool areas; two new restaurants; and an additional 67,000 square feet of event space. Tutor-Perini, the project's builder, estimates the expansion to be completed in 24 months. Pechanga officials say guests and the public will be notified when the new resort areas (hotel, spa, pool, restaurants) will begin taking advance reservations.
"We estimate the expansion will result in an economic output of over $550 million, generating roughly 2,944 jobs up front as a result of construction-related activities," said Dr. Christopher Thornberg, Founding Partner of Beacon Economics. "We estimate the local economy will benefit from an additional 560 jobs per year going forward as a result of expanded operations at Pechanga Resort & Casino."
A 2014 study by the Rose Institute of State and Local Government at Claremont McKenna College found the combined economic impact of Pechanga tribal and resort activities resulted in the direct employment of 5,257 people, making the tribe one of the 10 largest employers in the Inland Empire region of Southern California.
Pechanga has also committed nearly $20 million to mitigate the effects of the expansion on the surrounding south Temecula area. A recent agreement reached with the City of Temecula provides funds for a new Temecula Parkway off ramp, widening of Pechanga Parkway, and annual payment of an additional city police officer.
"We are completely committed to making Pechanga Resort & Casino a world-class resort destination," said Patrick Murphy, President of the Pechanga Development Corporation. "We have consistently provided our guests with excellent quality and customer service, and now we're making their experience even better. We've brought in some of the best designers, architects and builders who have worked with other iconic properties to create stunning resort features. We are very excited for the future."
The design team is led by Delawie architects, the original designers of the Pechanga Resort & Casino when it was built in 2002. Lifescapes International has been selected as the pool area and landscape architects. Over the past five decades, the firm has designed iconic landscapes at world-class resorts including the Bellagio, Wynn, and Venetian hotels. CLEO Design out of Las Vegas and Los Angeles-based KNA Design will be leading the interior designs.
Pechanga Expansion Has an Economic Output of over $550 million
Nearly 3,000 jobs up front from construction-related activities
560 total new jobs going forward from expanded operations
Local Improvements Funded by Pechanga as Result of Expansion
$5 million to widen Pechanga Parkway and improve local roads.
Over $9 million in funding for local law enforcement
$14 million contributed for Interstate 15/Temecula Parkway Ultimate Interchange
Snapshot of Pechanga When Resort Expansion Is Complete:
Casino square footage: 200,000
Event/meeting/convention square footage: 100,000 (indoor) 174,500 (outdoor)
Number of hotel rooms: 1090
Number of restaurants: 13
Number of pools: 13
Number of employees: 4,560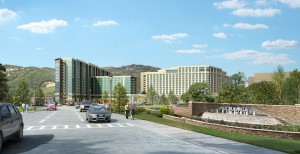 Want to see the vision of what Pechanga Resort & Casino will look like in about 2 years? CLICK HERE FOR DOWNLOADABLE VIDEO.

Pechanga Resort & Casino – Resort Expansion Rendering Video from Pechanga Casino on Vimeo.
Sound Bite on Expansion from John Warkentien who's worked at Pechanga Resort & Casino for 20 years. CLICK HERE for Downloadable soundbite. (click "Clip Info/Download" under video)
Sound Bite from Bobby Sabeh -Started Working at Pechanga at beginning of December 2015. CLICK HERE for Downloadable soundbite. (click "Clip Info/Download" under video)
Sound Bite from Mila Griffith – Has worked at Pechanga for 15 years. CLICK HERE for downloadable soundbite. (click "Clip Info/Download" under video)

Want to see some of the construction that's started at Pechanga? CLICK HERE for downloadable b-roll. (click "Clip Info/Download" under video)