In working toward a zero waste goal, you find some pretty unexpected things that can be recycled. Pechanga Resort Casino's aim is to treat the Earth with kindness and respect.
Starting Earth Day and through the rest of the month, we'll show you the unexpected ways Pechanga recycles, reuses and reduces all year round.
Lost eyeglasses get new life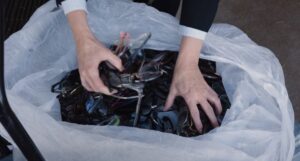 With thousands of visitors through the doors every day at Pechanga Resort Casino, someone is bound to leave something behind. That's where the Lost & Found Department at Pechanga comes in. Two dedicated Team Members retrieve, catalog and work to reunite guests with their left behind belongings. They carry a great matchmaking rate, though oftentimes, an owner just can't be located.
One of the top items forgotten by guests at Pechanga? Eyeglasses. Pechanga's Lost & Found Team discovered a way to reuse the glasses instead of having them end up in the landfill. About twice a year, volunteers from the Lions Club international pick up the stacks of spectacles that end up in Lost & Found. These glasses are turned over to their program that provides eye care to people and communities in need.
TP & gently used linens helping people on brink of homelessness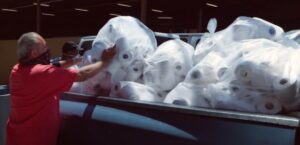 Another unexpected way Pechanga reduces its environmental footprint – toilet paper. When you walk into a hotel room at a lot of resorts, there's a brand new roll of toilet paper in the bathroom. What happens to the roll that's not all the way depleted from the last guest? At Pechanga, those rolls get collected and donated to Project T.O.U.C.H., a charity organization in Riverside County that helps people on the brink of homelessness get shelter and get back on their feet. Pechanga also donates gently used linens and robes to Project T.O.U.C.H.
Pechanga's food waste recycling program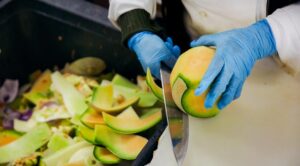 Ever wonder what happens to the peels of the beautifully carved fruit available at Blends Coffee & Wine Bar? Or what about where the rinds of the 50 pounds of avocadoes used every day to make the guacamole at Pechanga? Here's some food for thought. Pechanga cooks prepare about 500 ears of corn. Every day. Add to that 700 eggs cracked in the bakery, 130 pounds of cantaloupe and 96 pounds of pineapple peeled each day.
Pechanga Resort Casino recycles food waste to save the earth. The resort/casino recently reinstated its food waste recycling program. Now, instead of orange peels, cucumber skins, corn husks and anything else that might get cut, chopped, and discarded in food preparation going into the garbage, they go into green bins. Pechanga staff empty the green bins into a specialized food compactor.
A few times a week, our recycling partner CR&R comes by to pick up the compactor. It's taken to their anaerobic digestor facility in Perris, Calif. The food goes into the digestor. They switch it on. The scraps spin around inside the digestor at dizzying speeds. When their spin cycle is done, they come out as biofuel or compost. CR&R uses the biofuel to power their trucks. Regional farmers use the compost to nourish their crops. We're told you can also find some of this compost at local big box hardware stores.
In addition to the green waste getting turned over to CR&R, Pechanga also recycles all of its used cooking oil…about 100,000 gallons each year. The oil gets sent to a recycler who filters it and turns it into biofuel. But that's not all. In making all the precise cuts of steaks and meats, inevitably there are scraps and bones that can't be served. Pechanga turns approximately 75,000 pounds of meat scraps and bones over to recyclers. Fun fact: these get turned into…you guessed it. Biofuel….and further on down the line, they are processed and used in makeup and pet food.
Recycling in the Facilities Dept.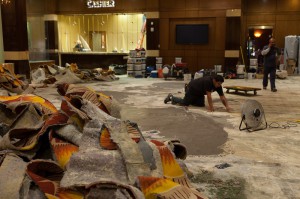 Think about how many light bulbs you have in your house. Now think about Pechanga's size. With 1,100 rooms and suites, hundreds of offices, restaurants, event and concert spaces and so much more in and around Pechanga Resort Casino, the number of lights needed becomes dizzying. Pechanga has switched almost entirely to LED lighting. In the last year though, Pechanga diverted more than 10,500 light bulbs from the landfill to recycling.
Along with the lighting, Pechanga sent five 55-gallon drums full of lighting ballasts to recycling as upgrades continue around the entire resort/casino.
The battery recycling program at Pechanga proves powerful. Departments from across the resort collect their used up batteries and bring them to the Facilities department periodically for recycling. These include standard alkaline varieties, lithium ions, nickel cadmium kind, and more. During the last year, Pechanga recycled 15 drums full of various batteries.
Ever think about how much carpet might be in your home? Most homes clock in around the 2,000 square foot mark with half or fewer square feet carpeted. Pechanga's casino floor totals 200,000 square feet and most of it covered with carpet. Each time crews replace an area of carpet, it's sent for recycling. The carpet actually gets broken down to live a new life as carpet padding.