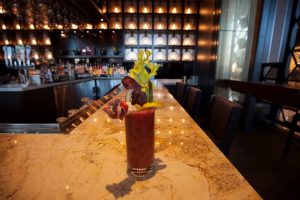 TEMECULA, Calif. (Feb. 27, 2018) – There are few more satisfying culinary indulgences than the perfect Sunday brunch, and at its newest dining establishment – the Lobby Bar & Grill — Pechanga Resort Casino has fused the Sunday brunch with the California bistro and live musical accompaniment to create the perfect mid-morning/early afternoon dining experience for every palate and taste. Plus, perhaps the perfect complement to Sunday brunch – a bottomless Bloody Mary bar and bottomless Mimosa bar.
For $42 per person from 9 a.m. to 2 p.m., Pechanga guests can enjoy the Lobby Bar & Grill's farm-to-table, locally sourced ingredients that form the tasty foundation of every item on Chef Jose Mendoza's creatively designed menu, which carries over into his Sunday brunch offerings. For an additional $16, guests are treated to either a Bloody Mary Bar that includes hot sauce selections, candied bacon, Slim Jims, pickled asparagus, pickled rainbow carrots, celery stalks, cucumber pickles, cocktail onions, green olives, radishes, Shishito peppers, Fresno peppers, and pepperoncinis or Bottomless Mimosas featuring Domain St. Michelle Brut Champagne and fresh orange juice.
Brunch offerings include your favorite breakfast items, such as eggs made-to-order with all your favorite omelet fillings, Applewood bacon, sausage, French toast, country potatoes and chilaquiles, fresh fruit and salads and a full seafood bar that includes jumbo shrimp, Alaskan King Crab Legs, New Zealand Green Lip Mussels, Jonah Crab Claws and three types of sushi rolls. Of course, all your favorite desserts and breakfast pastries are also available.
Savory Sunday fare includes chicken breast with almond romesco sauce and peppadew peppers and spinach garnish, short ribs braised in red wine and garnished with rainbow carrots and horseradish gremolata, slow roasted salmon topped with poblano pepper crema and hominy salad, wild mushroom rice with wilted arugula and pine nuts, and baked mac & cheese topped with bacon crumbles.
For more information on the Lobby Bar & Grill and Pechanga's other culinary offerings, visit www.Pechanga.com/dining.