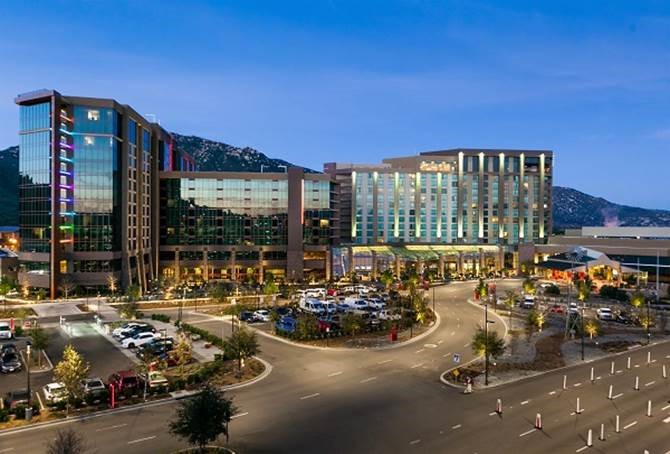 TEMECULA, Calif. – (June 14, 2021) – Pechanga Resort Casino announces today it is aligning with the CDC and the State of California regarding the use of face masks. As of June 15, 2021, fully vaccinated guests will not be required to wear a face mask while at Pechanga Resort Casino. The resort/casino's leadership asks non-vaccinated guests to continue wearing masks while indoors at Pechanga. Fully vaccinated Pechanga Team Members will also not be required to wear face masks should they choose. These Team Members are providing proof of their completed vaccinations to Pechanga's Human Resources Department.
The largest resort/casino on the west coast, Pechanga has mandated the use of face covers since reopening in June 2020, even before face covers were mandatory by the County of Riverside and the State of California. Officials continue to monitor CDC and relevant guidance pertaining to COVID-19 and remain guided by the principle that the health and safety of Pechanga Team Members, guests, and the surrounding community are the top priority.
As COVID-19 conditions continue to dramatically improve, Pechanga Resort Casino continues moving toward returning to normal operating capacity. The majority of the casino's slot machines will be in operation in the days and weeks ahead. More than half of the resort's slot machines were not operable upon reopening June 1, 2020 to manage occupancy levels and provide for social distancing.
Spa Pechanga has also returned to a seven-day-a-week schedule from its previous four-day availability and recently reopened its state-of-the-art fitness facility on a 24-hour basis. The Cove opened May 20. Both Spa Pechanga and The Cove are currently available to Pechanga hotel, RV Resort, Temecula Creek Inn, Tribal and Red Card and above guests.
The Pechanga RV Resort is also now back open at full capacity offering 210 RV spaces for guests looking for a relaxing getaway with great proximity to dining, gaming, shopping and more inside Pechanga Resort Casino.
For more information or to book a stay or spa experience at Pechanga Resort Casino, visit Pechanga.com.