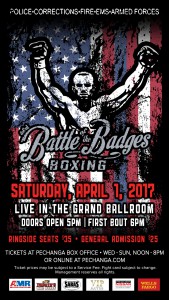 TEMECULA, Calif. (February 16, 2017) – Get ready Southland boxing fans; it's time for action-packed "Battle of the Badges" boxing! This event will be taking place Saturday, April 1, at 6 p.m. in the Grand Ballroom at Pechanga Resort & Casino in Temecula, Calif. Once again, the men and women of law enforcement, fire protection and other public safety agencies come together in support of the Cops 4 Kids & Communities and other charitable organizations. Tickets for the event are priced at $25 for general admission and $35 for ringside seats.
This lively showdown will feature 15 bouts between police officers, firefighters, EMTs, correctional officers and armed forces. While the combatants may not be household names in the boxing world, they really give it all they have. With nicknames like "The Brooklyn Bomber," "The Mean Machine," "Chaos," "T-Bomb," "Brown Sugar," and "The Preacher" you know they take this challenge very seriously.
Boxing is a big part of the Cops 4 Kids & Communities charity. The group has their own youth boxing club and offers many educational, recreational and artistic programs to help empower underprivileged youth in Southern California and beyond. The charity's motto is, "Let's reach them before we have to rescue them." There are countless individuals who have donated their time and services to help these children while becoming positive role models for the kids. Pechanga Resort & Casino has been an invaluable asset to this event for the past six years. Much of the success of this event is attributed to the professionalism and generosity of its members and staff.
Pechanga Resort & Casino is the largest Southern California casino and was voted the #1 casino by USA Today readers. As an all-inclusive resort destination with a larger casino and more slot machines than anywhere in Las Vegas, Pechanga is located in the heart of the Temecula Valley Wine Country. Just an hour from the Los Angeles, San Diego, Orange County and Ontario airports, the AAA Four Diamond property offers a luxury hotel with a full-service spa featuring a couple's massage suite, and the finest restaurants with 24-hours of gambling action, superstar concerts, a comedy club, title boxing events, more than 100,000 square feet of convention/meeting space and the award winning 18-hole Journey at Pechanga. As the largest casino in the Western United States, Pechanga is perfect for a romantic weekend or just a daytrip with happening nightlife to make for an exciting getaway.
If you'd like to support this worthwhile cause while cheering on some of Southern California's finest officers as they step into the ring, be sure to get your tickets now. Their last show was completely sold out. Tickets for the event are priced at $25 for general admission and $35 for ringside seats.
Battle of the Badges" at Pechanga
Saturday, Aril 1, 2017
General Admission 25.00
Ringside 35.00
Doors open 5:00 p.m.
First bout 6:00 p.m.
For more information call Jeff Penn @ 951-634-8078