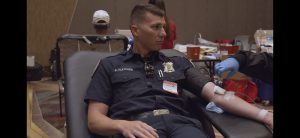 TEMECULA, Calif. (May 4, 2022) – Pechanga Resort Casino teamed up with the American Red Cross to host a community blood drive on Tuesday, April 26. With four Pechanga Fire Department personnel and many more donors from the public, 69 units of blood were collected at the event. This was the second blood drive Pechanga and the Red Cross joined forces for in two months. Ninety-three units of blood were collected during the first blood drive in March. The number one goal is to make sure hospital patients have blood available for emergency and everyday medical care. The blood drive came at a time when the Red Cross and blood banks face a blood shortage.
The firefighters told Red Cross officials they came to donate because they see the need for blood supplies every day in the community.
"The American Red Cross would like to thank Pechanga Resort Casino for hosting another life-saving blood drive," said Christine Welsh, Regional Communications Director for the Red Cross. "The blood donations collected will offer hope and healing to hundreds of patients, thanks to the generosity of Pechanga stepping up to host a community blood drive."
The Red Cross shows that up to three lives can be saved with just one donation of blood.
"Members of the Pechanga Fire Department made it a point to come over to the Red Cross/Pechanga blood drive because we routinely see the need for blood donations in our community," said Chris Burch, Pechanga Fire Department Battalion Chief. "You never know when an emergency might strike you or a loved one and the expectation is when you get to the hospital, there will be blood supplies available for you."
Donors received valuable incentives for giving including $25 gas cards from Pechanga, a $10 e-gift card from a retailer of their choice, a spaghetti dinner from Papa's Pizza and more great giveaways.
"We would encourage if you have the ability to donate to please do so. It's a simple thing to do and it could save somebody's life," said Burch.
To sign up for a blood drive in your area, visit RedCrossBlood.org or call 1-800-RED CROSS (1-800-733-2767).