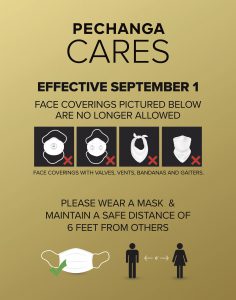 TEMECULA, Calif. — (August 29, 2020) – Pechanga Resort Casino is making enhancements to its comprehensive safety policy and will begin enforcing them starting Tuesday, September 1. Based on recent studies, certain types of face coverings will no longer be allowed at Pechanga. Types of face covers no longer permitted include bandanas, neck gaiters, face masks with vents or valves and balaclavas (cold weather coverings).
Pechanga's leadership institutes the change as new and more scientific and medical information becomes available about COVID-19. Citing studies from Duke University published in the Science Advances journal and others, the enhancement to the resort/casino's comprehensive safety measures is put in place for the health and safety of guests, Team Members and the community. The new face mask requirement will be enforced at all times.
All resort/casino team members are required to wear face masks for the duration of their shifts. Pechanga provides these to them as part of their uniforms. In addition, Pechanga also requires temperature checks for all persons, both team members and guests, entering the resort, mandates physical distancing from those not in their immediate parties, and was among the first casino to suspend smoking indoors. For the most up to date information on Pechanga Resort Casino's comprehensive safety protocols, visit www.Pechanga.com/covid.