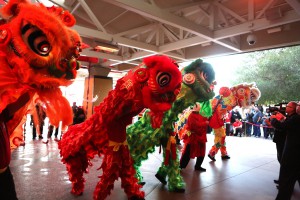 TEMECULA, Calif. – (Jan. 9, 2017) — In celebration of the Lunar New Year, Pechanga Resort & Casino introduces the exciting Lunar New Year $100,000 Lucky Drawing. Pechanga Club members will receive an entry for every point earned during the promotional period from Saturday, January 28 at 8 a.m. (Lunar New Year) to 5pm on Sunday, February 19. Drawings are held on three consecutive Sundays, February 5, 12 and 19. Winners will be announced at 6pm the same evening. Each week, 10 lucky players will win 2 Asiana Airlines round trip tickets to Asia, and 8 lucky winners will receive $500 in EasyPlay. The more you play, the more you win.
In addition, Pechanga resort & Casino will also have a series of lucky drawings and festivities, such as the "Lucky Red Envelope" Drawing. Every Thursday in February between 1 p.m. and 9 p.m., guests can simply swipe their Club cards at the promotion kiosk across from Pechanga box office for a chance to win up to $1,000 in EasyPlay.
For more information on Pechanga events and promotions, please call (877) 711-2946 or visit our website Pechanga.com. Must be at least 21 years of age to participate this promotion.
​
Lucky Lion Dance Performance
Pechanga Resort & Casino will celebrate Lunar New Year with the Lucky Lion Dance performance at 6 p.m. on January 28, (Lunar New Year's Day). The "Lucky Lion," which represent blessings and good luck, awakens and begins its opening sequence from the north entrance (adjacent to North Parking Structure) and works his way throughout the casino floor. Pechanga Resort & Casino executives will follow the lion dancers and give out red envelopes to guests to feed the lions that traditionally represent good luck, and wishing great luck to come in the New Year.
Lunar New Year Dining Specials
Guests looking for an authentic dining experience for the Lunar New Year can make plans for Bamboo or Blazing Noodles, Pechanga's two traditional Asian restaurants. Throughout the Lunar New Year weekend, Blazing Noodles serves four popular New Year Chinese dishes.
*Whole steamed fish marinated in ginger soy reduction, topped with green onions and cilantro ($45)
*Whole lobster sautéed in a spicy black bean sauce with bell peppers and onions ($65)
*Longevity noodles topped with 24-hour roasted BBQ pork, cucumbers and onions ($16)
*36-hour braised chicken with fresh shiitake mushrooms, fresh water chestnuts, star anise, green onions and ginger with hint of soy sauce served in a traditional clay pot ($22)
Bamboo serves two traditional Vietnamese New Year specialties.
*Thịt Kho Trứng – Braised Pork shoulder and Egg with coconut juice & fish sauce ($18)
*Tôm Hùm Rang Me – Stir fried Maine Lobster with Tamarind sauce ($65)
Lunar New Year Décor
The Lunar New Year symbolizes a time for reawakening and to celebrate the season, Pechanga Resort & Casino features Year of the Rooster décor throughout the property. The decorations include lanterns, bridges, cherry blossoms, inscriptions and much more, and they offer the perfect backdrop for group photos or selfies.