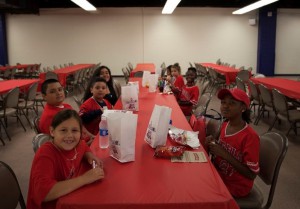 ANAHEIM, Calif. – (September 6, 2016) – Pechanga Resort & Casino and The Angels Baseball Foundation teamed up to provide 11 nearly homeless Riverside County children with back-to-school clothes on Friday, August 12. Once off the Pechanga shuttle, Angels Baseball volunteers worked one-on-one with each child to provide them with Angels gear, brand new shirts, pants, shoes, and undergarments in their sizes along with a stadium lunch and an unforgettable experience. Pechanga Resort & Casino in Temecula offered to bring the 11 children to the stadium for the team's annual Back to School Clothing Drive. The families are currently assisted by Project T.O.U.C.H., an organization helping 180 single mothers, fathers, children, elderly and Veterans every month with transitional housing and meal programs.
"When we learned of children being left out and lacking clothes and shoes they need for school, we knew our longstanding partnership with the Angels could open the door to helping some of those children in a unique way," said Patrick Murphy, President of the Pechanga Development Corporation. "Based on their smiles at the shopping spree and Angel Stadium tour, this was a memorable experience."
"I've been looking for help for clothing for my daughter, so I'm really happy they have this program. Without the help of Pechanga, the Angels, and the Salvation Army, my daughter wouldn't be going back to school with new clothes," said Victoria DiDonato, mother. "It's hard to come up with the money. This is a blessing."
With the help of the Salvation Army Southwest Riverside County and Project T.O.U.C.H, the kids, charity organization chaperones, and Pechanga volunteers were each handed a goodie bag for the ride, boarded the bus at the resort/casino in the morning, and made their way to Angel Stadium. When they arrived, the kids were ushered into the stadium's Exhibition Hall, an area few people ever get to see. Each received an armful of clothing as well as some brand new Angels gear and school supplies, just in time for the start of school.
"I cannot express how grateful we are at Project T.O.U.C.H. for the incredible experience Pechanga allowed our kids to be a part of last Friday," said Anne Unmacht, president of Project T.O.U.C.H. "Getting to experience Angel Stadium and receiving back-to-school clothing is a true blessing for the children in our program. This is now a treasured memory that will not be soon forgotten."
"Angels Baseball has long been committed to our community responsibilities within the Southern California region," said Angels Chairman Dennis Kuhl.  "The opportunity to work with other community partners and provide clothing to youngsters during the Back-To-School Clothing Drive is an event we look forward to on an annual basis. It is so important to assist these children and their families as they prepare for the school year ahead.  For our organization, volunteers from the Salvation Army, and others, the success of the event is based on the smiles on the children's faces.  And we saw plenty!"
The 11 children joined more than 400 other underserved kids from Orange County during The Angels Baseball Foundation Back to School Clothing Drive. Riding back to Pechanga on the bus, the kids were happy, full of food and went home with a positive outlook on the new school year, excited to show off their new clothes. See the kids' experience at Angel Stadium HERE.
Members of the media: Please access high res photos from the event available for download here.
Feel free to link to or embed this video from the event.