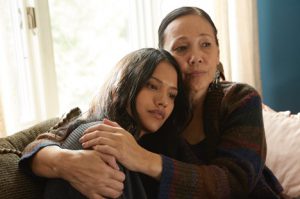 TEMECULA, Calif. (Oct. 8, 2018) – The women who produce, direct and act in films and television have created an echoing movement in 2018 for their voices to be heard. This November, Native and Indigenous women's voices through stories, films and art come into focus at the California American Indian and Indigenous Film Festival (CAIIFF). The three-day event takes place November 1-3, the start of Native American Heritage Month. It features a powerful lineup of full-length films, shorts and documentaries that have all been directed and produced by Native American and Indigenous women, and that star female Native American and Indigenous actors. The event also includes youth activities and Q&A sessions. Taking place at Pechanga Resort Casino in Temecula, Calif., tickets are $10 per day. Tickets may be purchased by visiting Pechanga.com or by calling (877) 711-2946.
This year's all-female lineup of the CAIIFF features the United States premiere of the feature film "Through Black Spruce", which tells the story of a young Cree woman whose disappearance triggers events in two worlds: in Moosonee, the remote Northern Ontario community she fled years ago, and Toronto, where she modelled before vanishing. Making its world debut last month at the Toronto International Film Festival, Saturday, November 3, is the first time American audiences will be able to screen the acclaimed film.
Other screenings include:
Thursday screening – Warrior Women (Southern California premiere): $10
Friday screening  – Kayak to Klemtu (California premiere): $10
Saturday youth program: FREE
Saturday closing night screening and awards presentation – Through Black Spruce: $10
Saturday night VIP reception: Invite only
"This year's festival comes at a time when women in Hollywood and beyond are demanding their voices to be heard. CAIIFF is excited to help elevate women's voices in showcasing their stories through art. It's our honor to feature the talents of these Native female artists," said Dr. Joely Proudfit, CAIIFF Director.
Taboo of the Black Eyed Peas will be sending in a special message to introduce his unreleased new music video "One World" filmed on the Pechanga Indian reservation in December following his successful performance at last year's film festival with his group Mag 7.  Members of Mag 7 will be at this year's festival working with tribal youth. CAIIFF is excited to showcase several student films from the Institute of American Indian Arts (IAIA) including The Blanket, Exhaust and Legacy. CAIIFF is supported by the Pechanga Development Corporation. This year, NBC Universal Talent Development and Inclusion has signed on as a sponsor. NBC Universal will hold a special session for filmmakers and attendees on Friday at 2pm.
We are pleased to announce this year we have implemented an awards program that will take place on Saturday night.
Audience members are asked to wear red to the Thursday night screening of "Warrior Women" preceded by U.S. and world premieres of short films addressing Missing and Murdered Indigenous Women (MMIW). This year's festival highlights the power of women's voices to not only tell their stories but to raise awareness of critical issues in the United States and in Canada.  Thursday night will also feature a special presentation of the weekly FNX TV series WASSAJA, hosted by Mark Trahant, editor of Indian Country Today, showcasing episode SHE REPRESENTS highlighting some of the more than 50 native women running for public office in the U.S.
The artwork for this year's festival was commissioned by Wakeah Jhane, a self-taught ledger artist from the Penatuka (honey eater) and Yaparucah (root eater) bands of Comanche and is also Blackfeet and Kiowa.
The VIP reception is not open to the public, however credentialed media are welcome to cover it and the rest of the three-day event. Members of the media should contact Tiffany Rodriguez at 951-526-1470 or trodriguez@pechanga.com to cover the screenings, Q&As or the VIP reception.