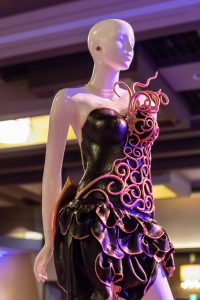 TEMECULA, Calif. – (Feb. 13, 2019) – A night of wine, a night at the ballet, fight night and a night of Knight – all interspersed with generous amounts of the Luck O' the Irish. When it comes to entertainment and winning, Pechanga provides plenty of March merriment to its guests.
The merriment begins the moment March arrives, with the 11th-annual Chocolate Decadence and Pechanga Wine Festival. The two-day event returns to the Pechanga Summit Friday, March 1 (7-10 p.m.) and Saturday, March 2 (1-5 p.m.). The always-popular event not only offers festival goers hundreds of wine varieties, chocolate confectionary delicacies, gourmet food samples, live music and a silent auction, but the knowledge your event proceeds are helping out a great cause – Habitat for Humanity Inland Valley.
Those same two days – March 1 and 2 – welcome the Inland Valley Classical Ballet Theatre to the Pechanga Theater for two presentations of Cinderella. The oldest strictly ballet company in the Temecula Valley delivers a reimagined original presentation of the timeless fairy-tale.
On Sunday, March 3, the incomparable Gladys Knight – fresh from singing the National Anthem at the Super Bowl – brings her dynamic artistry to the Pechanga Theater. A seven-time Grammy winner, Knight's musical mark has crossed over many thresholds: Pop, R&B, Adult Contemporary and Gospel, and she has made dozens of television and movie appearances over her 60-year career.
It's been 31 years since the Swedish "supergroup" ABBA has toured the United States. But the iconic pop group is well-covered with ABBA MANIA, the professional tribute band that plays the Pechanga Theater on March 15. ABBA MANIA is perfect for fans of "Mamma Mia" who never saw the original band live.
Two nights later, on Sunday, March 17, the powerhouse tenor quartet Il Divo takes the Pechanga Theater stage, bringing with them vocals that produced 160 gold and platinum albums, 30 million albums sold and four sold-out world tours. Discovered and mentored by Simon Cowell, Il Divo became the first Classical Crossover artists to have an album debut at No. 1 on Billboard's Top 200 chart. Oh, and along with their powerful vocals, dancers and acrobats enhance the sensory experience.
Speaking of sensory experiences, The Illusionists-Live from Broadway bring their hilarious magic tricks, death-defying stunts and mind-boggling, how-did-they-do-that wonder to the Pechanga Theater on Saturday, March 30.
One night earlier, on Friday, March 29, the Pechanga Summit welcomes Bellator MMA back with a welterweight headliner featuring former Bellator champion Andrey Koreshkov (21-3) tangling with Riverside's Lorenz Larkin (20-7). The card brings Bellator back to the Summit for the first time in nine months.
Tickets for all of these events are available at the Pechanga Box Office or by visiting pechanga.com.
When it comes to winning at the West Coast's largest and friendliest casino, you don't need to step into the octagon to claw your way to winnings. All you need to do is be a Pechanga Club member playing your favorite slots or table games on Sunday, March 17 — St. Patrick's Day — and you're eligible to win $500 in EasyPlay every hour from noon to 6 p.m. during the lucky day's hot seat promotion.
The following Sunday, March 24, it's the Time To Win drawings at Pechanga. Starting at noon, Club members can set their watches to winning time merely by playing their favorite slots or table games. At 1 p.m., one Club member will win $1,000 in EasyPlay. At 2 p.m., two more will each win $1,000 in EasyPlay. One hour later, at 3 p.m. three more lucky Club Members will win $1,000 in EasyPlay. At 4 p.m., four Club members will capture $1,000 in cash, culminating in the big drawing at 5 p.m., where five Club members will each win $5,000 in cash.
In addition, every five minutes starting at 1 p.m, it's good to be in the Hot Seat, which earns you $100 in EasyPlay. Number of entries are based on Club level. Silver members earn one time their entry, Gold three times, Platinum five times and Red eight times just by playing their favorite games. And multiple winning is possibl
March madness runs rampant at Pechanga Bingo, the most comfortable bingo room you will ever step foot inside. Along with Bingo After Dark on March 30 and Birthday Party sessions March 8 and March 22, where March birthday guests will receive a free $25 paper buy-in or $25 credit toward the purchase of an Electronic PHD, March is also the month for Pechanga Bingo's Spring Fling Bash. On Sunday, March 24, more than $100,000 in cash and prizes will go to lucky players in this always-sold-out event.
Next door to Pechanga Bingo is Pechanga Poker, which is giving away $100,000 in promotion prizes and at least $70,000 in its monthly array of daily guaranteed-payout tournaments. That includes the $30,000 Deepstack events on Saturday, March 16 and Saturday, March 30. The daily promotion payouts include Grave Hot Seats for players in active games from 1 a.m. to 8 a.m. Monday through Friday and rollover cash drawings for $500 on Friday evenings from 4 p.m. to 11 p.m., among others.
And now, poker and bingo players are eligible for Club perks and comps, based on their play. That further solidifies why it's a great idea to become a Pechanga Club member for free. Stop by the Pechanga Club desk on the main casino level and you will be on your way to earning. Visit www.Pechanga.com or call (877) 711-2946 for more information.
When you can't make it to Pechanga, there's Pechanga's Best Bet casino app, which is free to download from the App Store or Google Play. On the Best Bet app, you can enjoy your favorite slots, bingo, video poker and blackjack wherever you are.