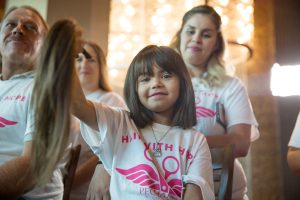 TEMECULA, Calif. — (July 24, 2018) – Short hair, don't care! Those with long locks looking to chop them off can be a part of making a breast cancer warrior's dream come true. This October, Spa Pechanga will offer free haircuts and styles to men, women and children willing to donate at least eight inches of their hair. Haircuts will be given throughout the entire month in the new Spa Pechanga, a stand-alone, luxury two-story salon and spa added as part of the resort/casino's $300 million expansion.
The mane campaign coincides with October being Breast Cancer Awareness Month. Donated tresses are sent to the Pantene Beautiful Lengths program which then gives it to the American Cancer Society to make and distribute wigs free of charge to women battling cancer. Haircuts and styles for donors are provided Monday through Friday by appointment starting Monday, Oct. 1 through Friday, Nov. 2. To donate hair, first make an appointment by calling (951) 770-8501 or by visiting Pechanga.com/indulge/spa and click the "book reservation" button.
"These women are absolute warriors. Our team looks forward to October each year because we love giving back in any way we can to those fighting breast cancer," said Whitney Tabor, Spa Pechanga Manager. "To suddenly lose hair you've had your entire life must be incredibly disheartening. If we can help even one person who is fighting the sickness to help her feel beautiful again, then that's important to us. We encourage everyone with extra hair to share the love with those who truly need it."
This is the sixth year Spa Pechanga has held the October hair donation campaign and to date, more than 300 ponytails have been collected. Last year alone, 34 feet of hair was collected, which amounts to two times as tall as a giraffe. It takes five to six ponytails to make one real-hair wig.
The side effects of breast cancer treatment, especially hair loss, can be devastating to a woman's psyche. The haircutting crusade encourages men or women whose hair is eight or more inches, not colored or bleached and not more than five-percent gray to give their hair to help a woman who has lost hers due to cancer treatment. All collected ponytails from Spa Pechanga will be given to the HairUWear® organization. HairUWear turns all usable hair donations into real-hair wigs and distributes them for free to female cancer patients through the national network of American Cancer Society® wig banks.
For more than a decade, Pechanga Resort Casino has been a major supporter of the Susan G. Komen Foundation in its region. Since 2011, resort/casino team members have donated more than $315,000 to the fight against breast cancer and toward raising awareness.
The Centers for Disease Control show breast cancer is the most common cancer among American women affecting one in eight. The organization statistics show more than 200,000 women get breast cancer and more than 40,000 women die from the disease each year. Hair loss, one of the most common side effects of cancer treatment, can be especially traumatic for a woman fighting cancer.
Hair must not be permanently dyed and may not be more than five-percent gray. To make an appointment at Spa Pechanga, call (951) 770-8501. For more information, visit Pechanga.com/indulge/spa. Appointments for hair donations and styles are based on availability. Guests may also drop off ponytails to Spa Pechanga.
Spa Pechanga is open Monday – Sunday from 8 a.m. – 8 p.m.