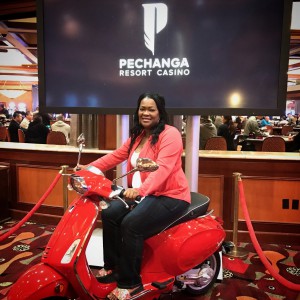 TEMECULA, Calif. (March 9, 2017) – Shirrena Perkins rode away from the weekend in her brand new scooter, which she won through the Red Hot Ride contest at Pechanga Resort & Casino! When she received the winning call on Friday, Shirrena was at an appointment and nearly fainted. She said "I was so excited, I had to pinch myself. I didn't believe it!" Shirrena and her husband live in Santa Ana and often frequent the local beaches. She plans on cruising around in her red hot scooter this summer all throughout those beach towns.
Shirrena and her husband visit Pechanga Resort & Casino at least once a week. She entered the Red Hot Ride giveaway when she heard how easy it was! All she had to do was enter their information on the contest webpage and include her Pechanga Club Member number. She was randomly selected and is ready to go for a spin! The Perkins' already plan to come back at play at Pechanga next week.
The scooter was provided by slot manufacturer Aristocrat Technologies for the Red Hot Ride prize.