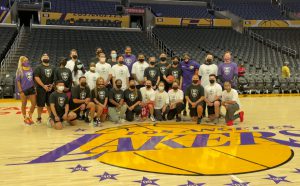 EL SEGUNDO, Calif. – (November 19, 2021) – The Los Angeles Lakers and Pechanga Resort Casino invited Southern California active military members to the famous STAPLES Center court for the experience of a lifetime. Nearly 100 service members from the March Air Reserve Base in Riverside, Calif. and the Los Angeles Air Base in El Segundo laced up their sneakers, pulled on a new Hoops for Troops t-shirt and hit the hardwood for a one-hour basketball clinic with Lakers coaches and Lakers Legends. The troops participated in warm ups, dribbling and shooting drills, and some friendly competition. They received the chance to get up close to Lakers Legends James Worthy, Robert Horry and Michael Cooper. Robert Horry even took a couple minutes at the end of one of the sessions to allow the service members to ask him a few questions. "What was it like playing with Kobe," one of them asked. "What's your greatest accomplishment?" and "What do you do to improve yourself?" also came from the group. "If it is meant to be, it starts with me," Horry echoed. "Those are the words my dad would say and I live by those."
With their families able to watch from the arena seats, military members in the one-hour clinics received free t-shirts, tickets to that evening's Lakers game, and amazing lifetime memories.
A special sponsorship between the Lakers and Pechanga Resort Casino created the "Hoops for Troops" program in 2015. Now in its seventh year, the program shows service members that there are organizations that appreciate them and the sacrifices they make to serve the country.
"Thank you to Pechanga and the Lakers, because to be a part of Hoops for Troops is such an honor for me because I know they sacrifice they've done," said Robert Horry. "I've been on USO tours and I've seen the eagerness of them and that really sends a chill down your body because these people are sacrificing their lives for us and for our freedom."
"It was an honor to be chosen as one of the people from our base to play against one of the greatest Lakers ever. It was an honor," said Joon Soo Lee, who is stationed at the Los Angeles Air Force Base. "It was a great experience. It's super nice. I enjoyed every moment of today and what they do [Lakers & Pechanga] for our world is a great thing in general."
"The Lakers organization values supporting Service Members for the amazing work they do for us every day. We strive to provide experiences for Service Members and their families on and off the court, to take a night off and enjoy their loved ones. We want to show our support for their sacrifices," said Matt Makovec, Director of Community Relations, Los Angeles Lakers.
"Our servicemen and women make sacrifices every day that many of us take for granted," said Andrew Masiel Sr., President of the Pechanga Development Corporation. "We are honored to again be a part of this gesture of appreciation and support for all of their service and sacrifices."
Pechanga Resort Casino also provided hats for all fans who attended the Lakers' Veterans Day game.