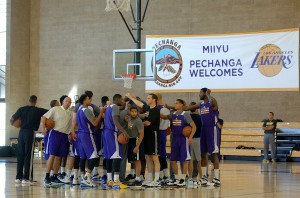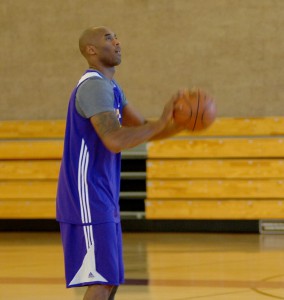 LOS ANGELES – (Oct. 23, 2015) – The Los Angeles Lakers made a preseason practice stop at the Pechanga Recreation Center on the Pechanga Indian Reservation in Temecula, Calif. on Thursday, October 22. For one hour, Kobe Bryant, Metta World Peace and all the Lakers' players and coaches participated in a shoot around at the Tribe's recreation center. About 250 tribal youth and members watched the event held just a few hours before the team's final preseason game against the Golden State Warriors. This is the fourth year the Lakers have held a team shoot around at the Pechanga Tribal Recreation Center in Temecula.
Earlier in the day, Lakers Youth Foundation coaches hosted a basketball clinic for about 70 children ages eight to 14. Kids were put through running, sprinting, dribbling, shooting and special skills drills by the Lakers Youth Foundation head coach, Daryl Roper and his team.The kids wore specially designed t-shirts for the day, and big, bright smiles as they concentrated on the coaches' drills.
Click this image to see the Lakers @ Pechanga photo gallery.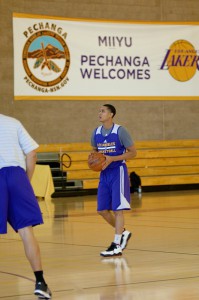 The Los Angeles Lakers traveled to many points across Southern California for exhibition games during the preseason. The shoot around in Temecula was a chance for the team to show gratitude for inland Southern California fans' loyalty. The Lakers' practice in Temecula was not open to the public, though members of the media were invited to interview coaches and players following the shoot around.
"Fans get the chance to see them [players] out of their normal element and that's always good," said Lakers Head Coach, Byron Scott. "They come here, see some of the kids and that's the most important thing for us, to make sure they're able to talk to the kids and show gratitude to the kids for being such good fans as well."
Lakers Basketball players and coaches also took part in a casino night at Pechanga Resort & Casino on Wednesday, October 21 to benefit the Lakers Youth Foundation. Pechanga has been a longtime donor to the Lakers Youth Foundation and sponsor of the Los Angeles Lakers. The team held a similar practice at Pechanga in 2010 at the newly-built recreation center. The team was so impressed with the facility and the hospitality provided by the Pechanga Indian Reservation that they decided to come back for the fourth time to raise money for charity.