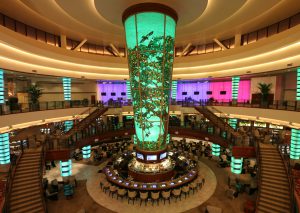 TEMECULA, Calif. (April 16, 2019) – Looking for Cinco de Mayo plans that are out of the ordinary, along with Cinco de Mayo drinks that are far from the usual? Pechanga Resort Casino has the answer for both of your quandaries this May 5.
On the get-away-from-the-ordinary front, Pechanga's always popular meeting spot, Kelsey's, is your go-to. The upscale pub not only has its 48 draft beers on tap and its delectable barbecue dishes available, but offers two special Cinco de Mayo dishes for guests.
The first is a Steak Ranchero: an 8oz steak topped with bell peppers, onions and jalapeños and accompanied with rice and beans for $22.95. Should your taste for spice lean toward the water, Kelsey's is also offering Shrimp or Fish Tacos with rice and beans for $11.95. And you can wash all of that down with $12 buckets of Corona (four bottles) or the always-reliable Patron Margarita for $8.25.
Speaking of Margaritas, the Round Bar and the new Corner Bar – Pechanga's latest meet-me-for-a-drink happening spot – are offering two special Margaritas on Cinco de Mayo. Guests can go for the Peach Berry Margarita or a Mango Margarita for $9.25.
Pechanga's twists on the Margarita extend to The Cove, which offers $7 Spicy Mango Margaritas, along with $5 Coronas and a taco special: two beef or chicken tacos with rice, beans and a can of soda for $10.
In addition to that, Mariachi Del Mar will be performing throughout Pechanga on Cinco de Mayo, starting at noon at the Casino Entrance, before serenading themselves to the Hotel Lobby, the North Entrance and the Bus Entrance by Kelsey's.
For more information on Cinco de Mayo or any other of Pechanga's numerous dining options, please visit www.pechanga.com.