TEMECULA, Calif. — (Nov. 1, 2019) – For most people, Thanksgiving is the time to be with family and friends and to celebrate all that they are thankful for. For others, Thanksgiving can become such a drag, especially for the ones hosting. Luckily for those spending their Thanksgiving at Pechanga Resort Casino, the only stressful thing might be picking among the restaurants to enjoy your Thanksgiving meal. This year, seven of Pechanga's restaurants feature Thanksgiving dining specials, offering choices for every taste and budget. Thanksgiving dinner specials can be found at the Pechanga Buffet, Great Oak Steakhouse, Lobby Bar & Grill, Kelsey's, Journey's End, Paisano's and Pechanga Café.
The Pechanga Buffet will start its Thanksgiving festivities with brunch from 9 a.m. until 3 p.m. with dinner following until 10 p.m. for $46.99 for adults and $23.99 for children ages 3-11. Diners can enjoy traditional thanksgiving foods along with some international flare, and whole, steamed Maine lobster. Guests can look forward to indulging in American classics such as sweet potatoes, honey orange glazed carrots, to enjoying something amazing from the sea like hot or cold snow crab or coconut shrimp off of the grill, along with amazing and succulent meats straight from our carving stations. Pechanga's bakers will also have an array of desserts made in house from scratch. Save room for traditional pies, cakes, and cookies, as well as hand scooped ice creams and mini milkshakes. The buffet seats more than 450 people and is a perfect dining option for families and large groups.
If you would like to experience one of Pechanga's fine dining restaurants, the AAA Four Diamond Great Oak Steakhouse is a great place to experience the holiday The night's special will include a three course meal starting with a butternut squash and roasted apple soup. The entrée is a roasted organic turkey with Italian sausage served with wild mushroom and polenta stuffing, cranberry compote, roasted sweet potatoes with pecan and mashed potatoes. The final course, is a Spiced Bundt cake with Apple caramel sauce to fill all of those fall dessert cravings. This Thanksgiving special is $38. The Great Oak Steakhouses nightly menu will be served in addition to the Thanksgiving special. The restaurant will be open for dinner from 5 p.m. to 10 p.m. Reservations are always recommended and can be made by visiting www.Pechanga.com/dining or by calling (877) 711-2WIN.
For fine dining with an Italian twist, check out Paisano's for Thanksgiving. This years' three course meal will start off with a potato and leek soup topped with a crisp pancetta crumble, followed by the main course with includes fresh roasted turkey, Italian style mashed potatoes, ciabatta sausage, fennel stuffing, turkey mushroom gravy and cherry pomegranate chutney. To round out the meal, enjoy a pumpkin crème brulee for dessert. Paisano's three-course Thanksgiving dinner is available for $32 with the restaurant's nightly fall menu. Open for dinner from 4 p.m. 10 p.m., reservations are strongly recommended and made by visiting www.Pechanga.com/dining or by calling (877)711-2WIN.
For some, there is more to Thanksgiving than delicious food and family, and that's football. For a fun, casual atmosphere Kelsey's Bar & Grill is the perfect place to enjoy good food and catch this years' NFL Thanksgiving game. Guests can savor some favorite dishes with a three course meal for $27. This includes a Butternut Squash soup with corn bread croutons, smoked turkey and mashed potatoes with green beans, cornbread stuffing, cranberry sauce and turkey gravy, and lastly, a Pumpkin Pie Chantilly. Kelsey's will be open from 11 a.m. to 11 p.m. also serving its fall menu including, authentic barbeque, wood-fired pizzas, and 24 beers on tap.
The Pechanga Café offers great meal options for guests at any time. Open 24 hours, the Café will feature a Thanksgiving menu of roasted turkey with sweet potatoes, green beans gratin, cornbread stuffing, mashed potatoes, giblet gravy, and cranberry sauce all for just $22. To finish off your holiday dinner, you can also order a pumpkin cheesecake for $5.
If you haven't already experienced one of Pechanga's newest restaurants, now is the time. The Lobby Bar & Grill will be offering a buffet special featuring three different carving stations with roasted turkey and home-style gravy, honey glazed ham, and Cajun tri tip roast. But the chefs also whip up mac & cheese, roasted pear stuffing, roasted Brussel sprouts, brown sugar glazed sweet potatoes with toasted marshmallows, green bean casserole and many more. The Lobby Bar & Grill will also feature a variety of mini desserts and selected pies. You can indulge in this decadent buffet from 11a.m. to 9 p.m. for $28 for adults and $14 for children.
For our guests looking for amazing views of the valley or indoor and outdoor seating for the family, Journey's End could be the perfect setting for your Thanksgiving meal. Whether you enjoy Thanksgiving breakfast or dinner, Journey's End offers an extensive buffet menu complete with freshly baked pastries, seasonal fruits, live egg and omelet station, Tri-tip, honey glazed ham, and roasted turkey carving stations, breakfast and dinner entrees accompanied with various holiday sides, and a large assortments of desserts. Journey's End Thanksgiving Buffet is open from 9 a.m. to 3 p.m. and is $32 for adults and $18 for children.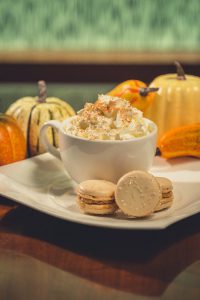 Blends Coffee and Wine Bar is also offering whole pies for pickup, for $25, starting November 1. Select apple, cherry, pecan or pumpkin pie made in house by Pechanga's expert pastry chefs. Sugar-free pies are also available with 24-hour advance notice by calling (951) 770-8511.
Journey's End, as well as Pechanga Resort Casino, features complimentary valet parking. Journey's End as well will be open to the public as well as the golfers playing the course. For more information on Pechanga's culinary offerings, please visit www.Pechanga.com/dining.