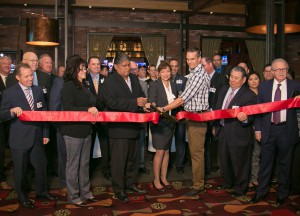 TEMECULA, Calif. — (Oct. 29, 2015) – Pechanga Resort & Casino announces the reopening of Kelsey's, one of the resort's acclaimed 11 restaurants. After a $2.5 million and nearly four-month renovation, Kelsey's has transitioned from a sports bar with team memorabilia lining the walls into an upscale American pub with an emphasis on hand-cut, barbecued meats and craft beer. Guests will immediately notice the industrial brick, concrete, exposed and reclaimed wood, juxtaposed with delicate glass and velvet textures as a major departure from the cherry-stained wood furnishings and closed-in booths that defined the restaurant's prior look.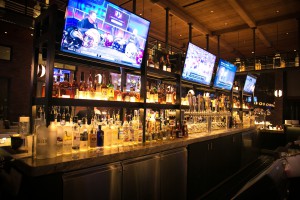 Kelsey's center stone bar with a glimmering suspended bottle display is the focal point of the space with comfortable booth and table seating lining the perimeter.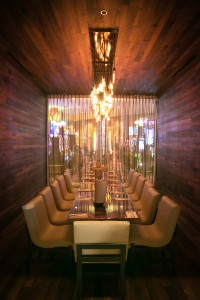 A semi-private dining room clad in wood and decorative chandeliers with a window looking out to the casino separated by glass and sheer drapery offers a warm and inviting ambiance.
A newer concept for casino restaurant table seating, Kelsey's offers an indoor patio adjacent to the casino floor allowing guests to be next to the energy and excitement of slot machines and table games. Kelsey's is open every day from 11:00a.m. to 11:00p.m. Sunday through Thursday and from 11:00a.m. to 12:00a.m. on Friday and Saturday.
For more information, call (877) 711-2946 or visit www.Pechanga.com/Kelseys. 
"Kelsey's has become such a popular place for our guests to watch sports on TV and enjoy really good, hearty lunches and dinners, that we decided the space needed a more contemporary and inviting appeal," said Pam Toscano, Vice President of Food and Beverage. "The completely reworked and expertly crafted menu, along with Kelsey's new look, offers an exciting restaurant for this area of the resort." She points out that 18 new jobs were filled to staff the bigger, 303-seat dining outlet.
In developing the new menu, Kelsey's culinary team initially conducted several guest polls. People were asked what kind of food and new concepts they would like to see in a new restaurant. The barbecue and craft beer theme surfaced repeatedly in the results.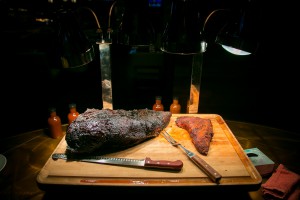 "From there, we went to work developing recipes and methods for smoking and barbecuing meats, crafting sauces, and adding a few other items like gourmet burgers and pizzas we know guests in this restaurant appreciate," said Kelsey's Head Chef, Ronnel Capacia.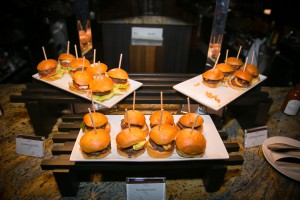 With 10 "From the Smoker" items and 14 southern specialty sides gracing the menu, Capacia and his team are confident diners will enjoy the new dishes. Other selections include several hearty salads and wraps, steak and seafood, and the beloved wood-fired, handmade pizzas held over from Kelsey's pre-facelift menu.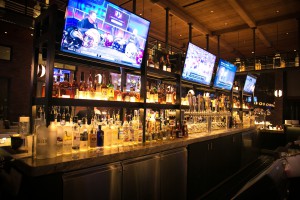 Another emphasis stemming from Kelsey's reinvention resides in the 48 beers on tap. All except three are craft or microbrews, and 23 of the 48 are Southern California brewery selections. "The popularity of Pechanga's annual microbrew festival and the fact that more craft breweries spring up every year in our region says something about guests appreciating the nuances and flavor profiles of beer varietals," said Capacia. "Beer pairs perfectly with barbecue, burgers and pizza."
Interior designers Shema Dougall of Pasadena, Calif. say their inspiration for creating the new look of Kelsey's came from a millery in an adaptive reuse district in Toronto, Canada. The millery had been upgraded to code and repurposed into a popular restaurant. The designers set out to make Kelsey's into a beacon for the area of the casino that includes the motorcoach entrance and the Pechanga Theater. Kelsey's still offers dozens of flat screen TVs which makes it an inviting space to watch sporting events.
Why is it called Kelsey's?
Kelsey's restaurant is named after C.E. Kelsey, a United States Bureau of Indian Affairs agent assigned to work with and address concerns of California tribes in the early 1900s. In 1906, C.E. Kelsey sent a report advising the Commissioner of Indian Affairs (the title at the time) to allot additional land to the Pechanga Tribe as its existing 3,600 acre reservation contained less than 300 farmable acres and no sustainable well water source. In 1907, the U.S. government purchased an additional 235 acres to be added to the Pechanga Tribe's land. This would be known as the Kelsey tract which nearly 100 years later, Pechanga Resort & Casino would be built.