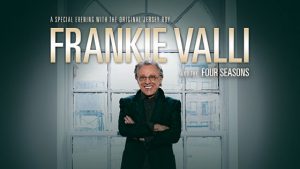 TEMECULA, Calif. – (Dec. 5, 2019) – Enjoy an evening with the original Jersey Boy when Frankie Valli and the Four Seasons come to the Pechanga Theater at Pechanga Resort Casino on Friday, January 17, at 8 p.m. Currently on sale, tickets start at $89 and can be purchased at the Pechanga Box Office, by calling (888) 810-8871 or online at Pechanga.com/entertain.
Frankie Valli came to fame in 1962 as the lead singer of the Four Seasons. With 71 chart hits of Frankie Valli and the Four Seasons, including 40 in the Top 40, 19 in the Top 10 and eight No. 1's, there's something about Frankie's music that makes people of every generation want to get up and dance.
From 1962 to 1978, Frankie Valli and the Four Seasons sold more than 175 million records. For decades after their heyday, Frankie and the Seasons continued to be a top concert draw and radio constantly played their classics, not to mention the new remixes that kept popping up on the charts. In 1990, Frankie and the other original Seasons were inducted into the Rock and Roll Hall of Fame, only five years after the Hall opened for business.
On November 6, 2005, "Jersey Boys" opened in New York featuring a biographical narrative, told as four separate points of view by each of the members of The Four Seasons (Tommy DeVito, Frankie Valli, Nick Massi and Bob Gaudio), with Valli himself portrayed by John Lloyd Young in the original production. The musical dramatizes several real-life incidents from Valli's life. By the time it closed over 11 years later on January 15, 2017, it was the 12th longest running show in Broadway history, passing such original Broadway productions as "42nd Street", "Grease", "Fiddler on the Roof", and "The Producers".
Thanks to the success of the Tony-winning musical "Jersey Boys", which chronicles the life and times of Frankie and his legendary group, such classic songs as "Big Girls Don't Cry," "Walk Like a Man," "Rag Doll," and "Can't Take My Eyes Off You" are all the rage.
"Jersey Boys" returned to New York with a new production in November 2017.  The Jersey Boys US National Tour opened to rave reviews in San Francisco on December 1, 2006 and is still breaking house records in cities across North America. "Jersey Boys" can also be seen on board the Norwegian Bliss.
Frankie saluted the decade that made him a star with his 2007 album "Romancing The '60s," where he put his own stamp on some of his favorite '60s songs. Produced by Bob Gaudio, an original member of the Four Seasons and Frankie's long-time partner, the set includes unforgettable new versions of such gems as "Spanish Harlem," "Call Me" and "Take Good Care of My Baby." And the album features a delightful guest appearance by the four young stars of "Jersey Boys," providing background vocals for "On Broadway." Launched with perfect timing amid Jersey Boy-mania, "Romancing The '60s" was the most eagerly anticipated album of Frankie Valli's 54-year recording career.
For as far into the future as anyone can see, "Jersey Boys" will introduce the music of Frankie Valli to new generations. The man himself shows no signs of slowing down. As his character says at the end of "Jersey Boys" –  "Like that bunny on TV with the battery, I just keep going and going and going." For as long as he wants to sing, people will want to listen.